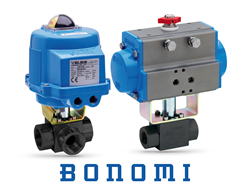 Rated working pressures range from 5145 to 7350 PSI.
CHARLOTTE, NC (PRWEB) January 23, 2017
Bonomi North America is introducing a new line of high-pressure carbon steel ball valves for use in hydraulic applications. The new valves come in two-way and three-way configurations with a choice of NPT or SAE thread end connections.
Both the two-way valves (3200 Series NPT/3300 Series SAE) and the three-way valves (3400 Series NPT/3500 Series SAE) are available in 3/8-inch through 1-inch sizes. Rated working pressures range from 5145 to 7350 PSI. Like all Bonomi valves, they are 100% tested to rated pressure in the open and closed position before shipping.
While a lever handle is standard, an integral ISO 5211 mounting pad simplifies actuation on the new valves. They are also available in factory-assembled automated valve packages with Bonomi's Valbia brand electric or pneumatic actuators.
Valbia electric actuators have dual 100VAC – 240VAC or dual 24 AC/DC reversing motors with torque limiters, thermal protection, auxiliary limit switch, NEMA 4X indoor use enclosure, manual override, and position indicator as standard. Options include a 4-20mA positioner, battery backup and 180° rotation. Both technopolymer and powder-coated cast aluminum enclosures are available.
Valbia pneumatic rack-and-pinion actuators for the new hydraulic valve packages feature anodized aluminum bodies. They are designed for 80 PSI control air pressure and are operable using air, water, nitrogen or other compatible hydraulic fluids from 40 to 120 PSI. Dual travel stops are standard.
For more information on Bonomi hydraulic ball valves or other Bonomi products, contact Bonomi North America at (704) 412-9031 or visit online at http://www.bonominorthamerica.com.
About Bonomi North America
Bonomi North America has served the U.S. and Canada since 2003 and is part of the Bonomi Group of Brescia, Italy. Bonomi Group brands include Rubinetterie Bresciane Bonomi (RB) brass ball valves and check valves; Valpres carbon and stainless steel ball valves; and Valbia pneumatic and electric industrial actuators. Bonomi North America maintains an extensive distribution network for these products from its headquarters in Charlotte, N.C. and a facility in Oakville, Ontario, Canada.
[end]