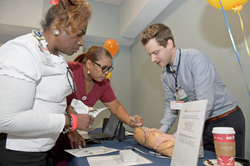 Our physicians and researchers are publishing nationally, presenting at research conferences around the nation, and creating valuable training programs for new physicians. We wanted to create a forum to bring all of our great work together in one place.
EDISON, NEW JERSEY (PRWEB) January 23, 2017
Doctors, nurses, therapists, social workers and neuropsychologists — many of them national leaders in their field — showcased their peer-reviewed published research at the first Research and Scholarly Activities Expo, called Path to Discovery, at JFK Johnson Rehabilitation Institute.
The medical professionals also displayed their published book chapters, professional presentations and workshops that are advancing the field of rehabilitation medicine.
"Our physicians and researchers are publishing nationally, presenting at research conferences around the nation, and creating valuable training programs for new physicians. We wanted to create a forum to bring all of our great work together in one place," said Sara J. Cuccurullo, MD, Vice President and Medical Director of JFK Johnson. Dr. Cuccurullo also is Chair of the Department of Physical Medicine and Rehabilitation at Rutgers Robert Wood Johnson Medical School.
The posters, papers, educational displays and hands-on demonstrations at the November, 2016, event focused on a range of topics, such as audiology, cognitive rehabilitation, orthopedic injury, speech therapy, brain trauma and stroke rehabilitation.
One demonstration focused on management of tracheostomies, a surgical opening created in the neck to allow direct access to the patient's breathing tube. Chris Wade, RN, BSN, CRRN, the nurse manager of the Brain Trauma Unit, teaches medical residents the best way to manage patients with tracheostomies to reduce infection and other complications. She demonstrated how a tracheostomy works on a specially designed mannequin. The JFK Johnson education protocols for tracheostomy are being used in rehabilitation institutes across the nation.
"Managing a tracheostomy is highly specialized and complex," Wade said.
Nearby, Elizabeth Aspell, Au.D., CCC-A, was discussing advances in audiology for the hearing impaired. She has researched new technology to help patients who have difficulty discerning sounds in noisy environments. Advances in hearing-aid technology block out background noise, and studies at JFK Johnson have found the new devices helpful to many patients.
"A lot of people will say they tried a hearing aid 10 years ago and it didn't work," Aspell said. "Yet today when they come to us, we are able to help most of them."
Also on display was the textbook Physical Medicine and Rehabilitation Board Review, Third Edition. Dr. Cuccurullo is editor of the textbook, which has sold more than 25,000 copies and is used by physicians around the nation as they prepare for medical board examinations and re-certification.
"The book is a reflection of our department, and many of our physicians have written chapters," Dr. Cuccurullo said.
Two of the many other presenters included:

Pragati Duttaroy, PT, MS, Clinical Director & Clinical Education Coordinator/Physical Therapy, who outlined her research on whether training physical therapy students impacts a physician's overall productivity. She said many physicians fear that training students will affect their clinical practice. "We found there was no impact on having physical therapy students involved in a clinical practice when it comes to billable hours and number of patients seen. And we found some positive effects," she said. "We hope our work encourages more clinical practices to help train students."
Craig Van Dien, MD, who showed visitors to the Expo the workshop on training medical residents about musculoskeletal injection. He demonstrated how the injections work on a specially designed model with built-in sensors that pinpoint the appropriate location." Student physicians are instructed how to make the injection in the correct place and do it with the appropriate "No Touch" sterile technique," he said.
Dr. Cuccurullo said the Expo was successful in sharing the many ways JFK Johnson is advancing the field of rehabilitation and may become an annual event.
The Leader in Providing Quality Rehabilitation Care
Since 1974, JFK Johnson Rehabilitation Institute has developed programs in such specialties as stroke rehabilitation, orthopedic programs, fitness, cardiac rehabilitation, women's health, pediatrics and brain injury rehabilitation. In addition to providing inpatient adult rehabilitation services, the Institute treats thousands of children and adults each year on an outpatient and short-term basis. Outpatient rehabilitation programs are provided in Edison and at our facilities in Metuchen and Monroe. We also provide consulting, treatment, education and advocacy for local companies, professionals and schools.
Our Continuum of Care assures patients of an integrated, personalized program that facilitates the recovery process and encourages family participation.
JFK Johnson Rehabilitation Institute offers 94 inpatient beds in a separately licensed hospital attached to the Anthony M. Yelencsics Community Hospital. Together, they comprise JFK Medical Center, a private, not-for-profit community hospital. The JFK Johnson Rehabilitation Institute is accredited by the Joint Commission. The facility is also accredited by the Committee on Accreditation of Rehabilitation Facilities. JFK Johnson Rehabilitation Institute is also licensed by the state of New Jersey as a Comprehensive Rehabilitation Hospital.
For additional information about our inpatient services, please call (732) 321-7733.