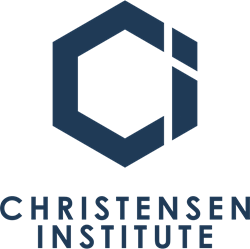 This how-to manual is a blueprint to help teachers transform classrooms into empowering, high-performing environments that students need today
Redwood City, CA (PRWEB) January 24, 2017
In partnership with Growth Public Schools and Oxford Day Academy, the Clayton Christensen Institute today published a breakthrough "playbook" for K–12 educators tasked with preparing students for the 21st-century knowledge economy. Authored by education expert Heather Staker, "How to create higher performing, happier classrooms in 7 moves: A playbook for teachers" maps out a step-by-step path for teachers to replicate the successes of top managers in America's highest-regarded organizations.
"In both classrooms and well-run companies, the person in charge is seeking to create a happy climate that maximizes results," said Staker, an adjunct fellow at the Christensen Institute and founder of Ready to Blend. "This how-to manual is a blueprint to help teachers transform classrooms into empowering, high-performing environments that students need today."
The playbook is the culmination of a yearlong research project that examined the structures and processes of the most successful organizations outside of education and then translated those into a classroom setting. Pulling from datasets like Glassdoor's "Best Places to Work" lists, Staker and three collaborators—Mallory Dwinal, David Richards, and Jennifer Wu—studied key strategies in producing happy, high-performing employees. They then distilled observations and trends into seven "moves" to help teachers convert traditional classrooms into high-agency, high-feedback learning environments.
Pilot programs ran at three distinctive schools to account for external variables:

Cindy Avitia High School, East San Jose – part of a charter network with a predominantly Hispanic and low-income student population
Redwood Heights Elementary School, Oakland – ethnically diverse and mixed-income public school
Khan Lab School, Mountain View – independent with an affluent Silicon Valley demographic
The free playbook can be found at http://www.christenseninstitute.org/publications/playbook. Follow the conversation on Twitter using #7Moves.
The Clayton Christensen Institute for Disruptive Innovation (http://www.christenseninstitute.org) is a nonprofit research organization dedicated to improving the world through disruptive innovation.
Both opening this fall, Oxford Day Academy (http://www.oxforddayacademy.org) is a 9–12 public charter school in Sequoia Union High School District in San Mateo, Calif. and Growth Public Schools (http://www.growthps.org), a K–8 public charter school in Sacramento City Unified School District.
Ready to Blend (http://www.readytoblend.com) is a professional development organization that prepares teachers and leaders to improve the achievement and wellbeing of K–12 students.