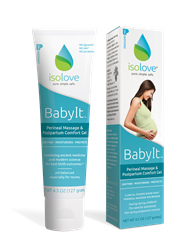 BELLINGHAM, Washington (PRWEB) January 23, 2017
Fairhaven Health, an industry leader in natural, science-based women's health care products, including leading fertility, pregnancy, breastfeeding, and menopause brands, is excited to announce the launch of BabyIt™, the newest product in the company's IsoLove® brand line. BabyIt offers a first-of-its-kind paraben-free and isotonic biogel designed to hydrate and soothe mom's sensitive tissues for pre-childbirth perineal massage and postpartum recovery, as well as to provide a calming moisturizer for baby's sensitive skin. Like all products in the IsoLove line, BabyIt features a patent pending, isotonic formula that is uniquely pH balanced to match the pregnant woman's body.
Nearly half of all women experience perineal tearing, or require an episiotomy, during childbirth. When performed in the last several weeks of pregnancy, perineal massage, the ancient practice of daily massage that stretches and relaxes a woman's birth canal before delivery, has been shown to decrease the incidence of trauma to genital tissues, as well as the need for episiotomy during childbirth. Perineal massage also helps reduce the chances that a woman will develop chronic pain and sexual discomfort during her postpartum recovery and beyond.
Developed by acclaimed Reproductive Physiologist, Dr. Joanna Ellington, BabyIt is designed specifically for use with perineal massage. Despite the benefits of daily perineal massage, the unfortunate reality is that very few pregnant American women know about perineal massage, which is frequently used in Europe and elsewhere. Dr. Ellington believes that lack of information on how to perform perineal massage, which can seem awkward at first, is a main culprit.
"When I tried to use the guidelines in medical literature to perform perineal massage, even as a reproductive specialist, I couldn't follow the instructions! My husband (a Pharmacist) and I spent hours drafting very clear instructions for using BabyIt, so that it can work for pregnant women by themselves or with a partner." says Ellington. "The fun aspect of doing perineal massage as a couple, is that it can be a relaxing bonding time that can even sometimes lead to intimacy." Every tube of BabyIt comes with Dr. Ellington's detailed tips on how make perineal massage a successful preventative step for women.
BabyIt is less irritating than lubricants commonly recommended for perineal massage. Lubricants such as KY have high salt concentrations and have been reported to damage vaginal tissues and cause severe irritation potential. Almond oil (which is also used by some women), is associated with increased rates of preterm labor, and oils in general can increase vaginal infection rates. BabyIt was designed to facilitate the gentle stretching of perineal massage without causing irritation and discomfort.
After labor and delivery, BabyIt can be used to soothe and hydrate sore, swollen, bruised, torn and healing vaginal tissues. BabyIt's gentle formulation contains natural antioxidant support, and hydrating properties, all of which work together to provide soothing comfort in the days and weeks following childbirth. It can be used on post-partum perineal tissues as a calming balm, on tissues or gauze as a gentle gel wipe for cleansing and as a moisturizer to keep peri-pads or clothes from sticking to healing tissues. BabyIt is also gentle enough to use on baby to calm and moisturize delicate dry skin.
BabyIt retails for $19.95 and is now available online at http://www.myisolve.com, as well as, on http://www.fairhavenhealth.com. Dr. Ellington is available for media interviews about BabyIt and the entire IsoLove line.
Mark your calendar for February 10th at 9:00 pm ET/ 6:00 pm PT! @BellyToBreast will host a Facebook Live discussion with Dr. Ellington and acclaimed baby wellness expert and registered nurse midwife, Shari Criso who will answer your questions about pre-and-post-natal care for mom.
About Fairhaven Health:
Fairhaven Health is a specialty supplier of natural, doctor-designed products to support fertility enhancement, pregnancy and breastfeeding. We offer a broad range of products to help couples conceive, providing natural alternatives to more expensive and invasive infertility treatments. Our clinically validated fertility supplements and ovulation prediction tools are recommended by OBGYNs and fertility specialists and have helped tens of thousands of couples conceive naturally. Once pregnancy is achieved, we offer natural, doctor-designed prenatal supplements and our award-winning Milkies nursing products to help new moms meet their breastfeeding goals. And we are very excited about our newest brand, Isolove, which offers paraben-free and isotonic biogels designed for perineal massage, postpartum recovery, and much more.