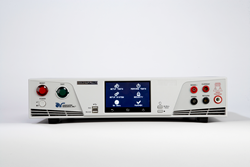 The Production Line Hipot Testing Powerhouse
Lake Forest, IL (PRWEB) January 24, 2017
Associated Research, the leader in electrical safety compliance testing, has announced the addition of two new Models to their HypotULTRA® series. The new HypotULTRA models feature 4-in-1 test functionality that includes AC Hipot, DC Hipot, Insulation Resistance, and Ground Bond testing in a slim lightweight and functional design.
These new models raise the standard for production line Hipot and Ground Bond testing and make it easier for manufacturers to adopt best testing practices without sacrificing productivity. New models include:

Model 7804: 5 kVAC Hipot and 6 kVDC Hipot instrument with a built-in Insulation Resistance and 40 Amp Ground Bond.
Model 7854: 500 VA AC Hipot and 6 kVDC Hipot instrument with a built-in Insulation Resistance and 40 Amp Ground Bond.
All-New Features & Benefits

Data Transfer: Take the pain out of data transfer with the on-board flash drive support and local data storage. Instantly upload test files directly to the instrument during set-up and save/record up to 10,000 test results directly from the instrument.
Barcode Scanning: Increase efficiency & production throughput by incorporating a barcode scan. A simple scan will associate the DUT with the test sequence and test data. The barcode scan also supports concatenated barcodes.
ProVOLT®: This time-saving feature allows for voltages to be raised and held between steps. This allows the user to test at multiple voltages without waiting to ramp up/down the voltage from zero.
Touch Screen Capability: Testing from the front panel just got a whole lot easier. Intuitively set up test parameters and steps with the swipe of a finger.
Negative DC Output: Provides a reverse polarity DC dielectric withstand test output. The user is able to maximize testing capability by testing product insulation in both polarities.
Autoware®3 Compatibility: Autoware3 automation and data collection software includes several features that revolutionize the way electrical safety tests are performed. Also increase efficiency and production throughput with Autoware 3.
The new HypotULTRA Models will be available in the first quarter of 2017. Pricing is as follows:
7804 AC/DC Hipot , IR and Ground Bond Test Instrument $6,999.00
7854 AC/DC Hipot (500 VA), IR and Ground Bond Test Instrument $7,999.00
Contact the company at 1-800-858-8378, e-mail at feedback(at)arisafety(dot)com or visit their site at http://www.arisafety.com. For editorial questions, please respond to Jim Kenesie at jim(dot)kenesie(at)arisafety(dot)com.
Founded in 1936, Associated Research is a worldwide leader in Electrical Safety Compliance Testing Instruments.