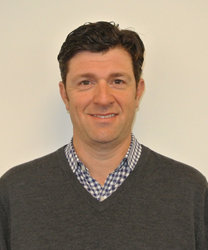 Shelton, Conn (PRWEB) January 24, 2017
EDR, the nation's leading provider of property risk information and due diligence tools, announced today that John Amirsakis has joined the company as vice president of sales and marketing.
In this role, John will use his extensive experience to lead the company's sales and marketing initiatives. John will report to Dean Graves, who has recently been promoted to the position of chief commercial officer.
Chris Aronson, CEO of EDR, said, "I'm delighted to welcome John to the team. As we continue to realize organizational alignment, John's experience and leadership will serve us well to further our mission to have closer engagement with our customers, ensuring that we provide the best workflow, data and tools available to the property due diligence industry."
John joins the EDR team with a proven track record that spans twenty years. Most recently, he was the vice president of sales for iSENTUM and managing director of sales for CrediFi, both early state startups in the Big Data Space. Previously, he was the head of global sales of Financial Recovery Technologies. Prior to that, he was the head of institutional sales at NYSE Technologies where he oversaw sales for the Americas and led a team of over 40 sales executives and account managers.
John says, "I am thrilled to be joining EDR at such an exciting time as the company expands into emerging markets, and I look forward to working with the team to build upon the mission of fostering even closer engagement with our existing customers."
John is a graduate of the University of New Hampshire.
About EDR
EDR serves the entire commercial real estate ecosystem delivering workflow technology and data. For over 25 years, EDR's goal has been to offer tools and reports that make the work of environmental due diligence professionals more efficient, effective and enjoyable. Its database contains over 3.1 billion historic records, including the most comprehensive repository of environmental and land use information in the United States. EDR also conducts market research and shares strategic intelligence through a variety of online channels and in-person events. Headquartered in Shelton, Connecticut, EDR is owned by the Daily Mail and General Trust, plc (DMGT). http://www.edrnet.com