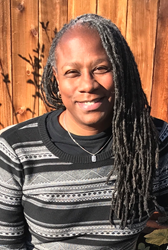 If we can change attitudes and beliefs, if we can reach people early, and educate medical and nursing students, [circumcision] will fall out of favor and the rate will drop precipitously.
Tarrytown, New York (PRWEB) January 25, 2017
Tora Spigner, RN, MSN, of Berkeley, California is a doula, labor and delivery nurse, and a staunch opponent of circumcising baby boys. Her viewpoint has been honed by her family, all of whose boys and men are intact, and in her years in obstetrics, where she says she has seen many complications from removing foreskins from newborn boys—including cutting off the glans penis and unintentional removal of shaft skin.
"People have no idea how invasive circumcision surgery is," says Ms. Spigner, who works in the maternity department at Alta Bates Summit Medical Center in Berkeley. So, she says she takes it upon herself to educate parents before their babies are circumcised. She shows them the post-circumcision care instructions and asks parents, "Do you really want to do wound care, on top of caring for a newborn?" Many parents haven't thought of circumcision as actually wounding their baby, she notes, adding that parents often decide to keep their sons intact after speaking to her.
As a result of her unwavering commitment to intactivism, Intact America is honoring Ms. Spigner as January's Intactivist of the Month.
"Tora inspires utter confidence—not just because of her knowledge about birth and the importance of protecting mothers and babies from harm, but in the straightforward way she calls for not interfering with nature," says Georganne Chapin, executive director of Intact America. "In the challenging hospital environment where she works, Tora tries hard to ensure parents know the truth about circumcision."
THROUGH GRADUATE RESEARCH, SHE LEARNED ABOUT INTACTIVISM
Raised in Port Huron, Michigan, Ms. Spigner studied medical technology as an undergraduate at Michigan State University. Later, while working on her Master's degree in Interdisciplinary Technology at Eastern Michigan University, she became interested in how medical technology has changed childbirth over the decades. In the process of writing an independent paper on that subject, she decided she wanted to become a childbirth professional.
Ms. Spigner moved west and enrolled in nursing school at San Francisco State University, where she earned her RN and a Master's of Science in Nursing. After helping a friend to give birth, Ms. Spigner launched an independent business as a doula "before it was a profession," she smiles. She still works independently as a doula, along with her job at the hospital.
Ms. Spigner says she first became aware about circumcision when her brother was born in 1971, and her mother made sure he stayed intact. "The men in my family are all intact," she explains. "We feel very strongly that it is nobody's right to change another person's body."
It was through her research in graduate school that Ms. Spigner learned about the intactivist movement. She discovered that the Nurses at St. Vincent's Hospital in Santa Fe, NM, were refusing to assist in circumcisions, so she wrote for information and received a packet including bumper stickers and reading materials. She began to actively demonstrate against circumcision. Since 2002, she's had a "NOCIRC" license plate on her car, having been inspired by Marilyn Milos, founder of the National Organization of Circumcision Information Resource Centers, whom she met at a demonstration.
ONCE ANGRY, NOW RESOLVED
Early on as an intactivist, Ms. Spigner says she "spoke my mind" and argued with people who did not share her view that circumcision is medically unnecessary and that babies must be protected from its trauma. Upon reflection, Ms. Spigner says she thinks people reacted to her outrage, not her message, and she wasn't as effective as she could have been. "I kind of accosted people. I'd say, 'Why would you do this?'" she recalls.
So, in recent years, she has moderated her approach. She agrees with Intact America's view that circumcision is "as an American problem—a cultural problem," she says. "If we can change attitudes and beliefs, if we can reach people early, and educate medical and nursing students, the practice will fall out of favor and the rate will drop precipitously."
Ms. Chapin applauds Ms. Spigner's contribution to intactivism. "At a time when too many who know that circumcising a baby is wrong are still reluctant to come out publicly, Tora is unequivocal in her condemnation of the practice and utterly comfortable speaking out in any setting," she says. "She is a truly a role model for intactivism."
ABOUT INTACT AMERICA
Intact America is the largest national advocacy group working to end involuntary circumcision in America, and to ensure a healthy sexual future for all people. Intact America is based in Tarrytown, New York. For more information, visit Intact America at http://www.intactamerica.org, on Facebook, and on Twitter.