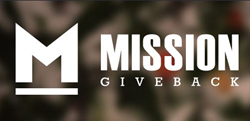 These donations were only possible because of the thousands of members who shopped with us in 2016. We truly couldn't have done this without them.
San Diego, CA (PRWEB) February 01, 2017
GovX, the online shopping site exclusively for current and former military, first responders, and related government personnel, donated over $70,000 in 2016 to thirteen organizations that directly impact the lives of those who have served our country and communities.
The donations came from GovX's Mission Giveback, a monthly program which allows members to vote on service-related causes, foundations, or nonprofits supporting military, first responder, and/or law enforcement communities. Whichever cause tallies the most votes at the end of each month receives a portion of GovX proceeds from all orders placed in the following month.
The supported causes were diverse in their missions and included disaster relief organizations, service dog charities, veteran foundations dedicated to mental health, causes supporting the families of deceased firefighters and police officers, and others. The causes GovX supported in 2016 were:

Team Rubicon
Sheep Dog Impact Assistance
Marine Reconnaissance Foundation
Patriot PAWS
Pat Tillman Foundation
Dogs on Deployment
MARSOC Foundation
Brotherhood for the Fallen
National Fallen Firefighters Foundation
555 Firefighter Fitness
Firefighter Aid
Semper Fi Fund
IAVA: Iraq and Afghanistan Veterans of America
"We were honored and delighted to be chosen as one of GovX's Mission Giveback recipients," said Vanessa Keane, Senior Manager of Community Outreach and Events at the Semper Fi Foundation, a financial assistance organization that supports wounded Marines and their families. "We are grateful for our generous donors and incredible community supporters, like GovX, who have joined us in our pursuit to serve those who preserve our freedom."
Mission Giveback was introduced at the end of 2015, and provides an extra incentive to shopping at GovX. Members are able to vote for the cause they'd like to support, learn more about each one, and even submit their own cause for consideration.
"What's truly amazing to us isn't just that we were able to support these thirteen causes, it's that our members made it possible," said Aaron Pelander, Vice President of Marketing. "These donations were only possible because of the thousands of members who shopped with us in 2016. We truly couldn't have done this without them, and having this extra way to give back to the military and first responder communities motivates us to keep making GovX even better this year."
About GovX
GovX.com is for men and women of service. Members include active and veteran U.S. military, firefighters, law enforcement officers, federal agents, and personnel from related government agencies. Membership is free and offers access to thousands of products from hundreds of brands at exclusive, below-retail pricing. Members also receive discounted tickets to sporting events, entertainment and travel. For more information, visit http://www.govx.com.