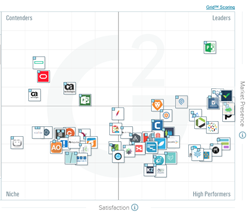 Chicago (PRWEB) January 24, 2017
G2 Crowd, the world's leading business software review platform, today released the Winter 2017 Project Management Software Grid report to help businesses make the best project management technology buying decision. Microsoft Project & Portfolio Management, Wrike, Asana, JIRA, Paymo, Basecamp, Smartsheet, Podio and Workfront were named Leaders in the report, receiving a strong customer satisfaction score with a large market presence.
Targetprocess, Mavenlink, LeanKit, TeamGantt, Meisterplan, Pivotal Tracker, Avaza, Cascade Strategy, Freedcamp, Teamwork Projects, Clarizen, Apptivo Project Management, MindManager, FunctionFox, Celoxis, Assembla, Function Point Productivity Software, RationalPlan, XMind, COMPASS Quality Management System, Kanzen, Accelo and Taiga were named High Performers in the report, earning strong customer satisfaction marks with smaller market presence scores. Paymo earned the highest overall satisfaction score, while Microsoft Project & Portfolio Management earned the highest overall market presence score.
The Grid leverages customer satisfaction data reported by authenticated users along with vendor market presence determined from social and public data. Based on a combination of these scores, each software solution is categorized as a Leader, High Performer, Contender or Niche.
Key Findings:
● Steep learning curve — The overwhelming consensus of users noted that these products require either a very intensive training period, an all-hands-on-board mentality, or at least one or two employees devoted solely to the ins and outs of the software. According to users, effective project management software will ease the pains of organizing, delegating, and tracking hours, resources, and communication. However, that does require a heavy investment of learning and onboarding, which users said will ultimately ease the overall learning curve.
● Improves communication and transparency — The biggest benefit users said they realized from project management software is the improvement and facilitation of transparency across the department and company. The majority of the products in this report scored above 80% in Collaborative Project Planning. Users said that project management software created a centralized platform for communication about projects and tasks, effectively creating an environment of responsible ownership and productive accountability.
● No such thing as all-in-one — Many project management tools advertise themselves as all-in-one, offering features like Gantt charts, calendar views, project budgeting, and issue tracking. However, many users realized that that is usually not the case: either a product clearly offers better support and capability in one function than its others, or it requires integration with another software solution to provide those capabilities. Users said that the majority of the products consistently did best in tracking deliverables and time spent on projects and tasks.
About the Project Management Software Grid report:
● The report is based on more than 3,496 reviews written by business professionals.
● Of the 233 products listed in G2 Crowd's Project Management category, the ranked products each received ten or more reviews to qualify for inclusion on the Grid.
About G2 Crowd, Inc.
G2 Crowd, the world's leading business software review platform, leverages more than 125,000 user reviews to drive better purchasing decisions. Technology buyers, investors, and analysts use the site to compare and select the best software based on peer reviews and synthesized social data. Monthly more than a half-million people visit G2 Crowd's site. Co-founded by the founder and former executives from SaaS leader BigMachines and backed by roughly $12 million in capital, G2 Crowd aims to bring authenticity and transparency to business technology research. For more information, go to G2Crowd.com.