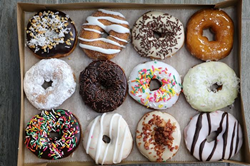 We're proud to introduce our donuts to new fans, and especially excited to bring 25-40 new jobs to the region with each additional store. The opening of the Greensboro, NC, Duck Donuts brings the franchise total to 33 open stores across the U.S.
Mechanicsburg, Pennsylvania (PRWEB) January 25, 2017
Greensboro, North Carolina, welcomed its first Duck Donuts to the city on Monday, January 23, according to Russ DiGilio, founder and owner of Duck Donuts Franchising Company LLC. The opening of the ninth Duck Donuts in the Tar Heel State brings the franchise total to 33 open stores across the U.S.
Franchise owners David and Rebecca Johnson are thrilled to celebrate the launch of their donut shop at 409 Pisgah Church Road in The Village at North Elm, site of the former ABC store.
"We have really enjoyed being part of this brand and love the excitement of introducing warm, delicious, and made-to-order donuts to the new market of Greensboro," says Rebecca Johnson. "Immersing our business and staff in the community culture and looking for opportunities to add value through #QuackGivesBack initiatives is a driving force for David and me."
A perfect fit for entrepreneurs, Greensboro was named on Forbes' Best Places for Business and Careers in 2016. The Gate City acts as the major intersect for highways I-85, I-40, and I-73 and is home to the International Civil Rights Center and Museum, Wet 'n Wild Emerald Pointe Water Park, Greensboro Science Center, and the University of North Carolina at Greensboro.
"The Tar Heel State is where our Duck Donuts journey began, and our team is thrilled to expand our franchise to Guilford County," says DiGilio. "We're proud to introduce our donuts to new fans, and especially excited to bring 25-40 new jobs to the region with each additional store. Deeply passionate about customer service, the Johnsons are veterans to our procedures, and they will continue to satisfy North Carolina residents and visitors with our award-winning donuts!"
The 2,000 square foot donut shop will feature indoor and outdoor seating, as well as a retail store reflecting the company's iconic coastal theme. As of January 24, 2017, Duck Donuts Franchising Company has 33 open locations and 136 signed contracts.
Donuts at this location are made fresh to order 7 days a week from 6:00 a.m. to 9:00 p.m. Monday-Saturday and 6:00 a.m. to 5:00 p.m. on Sundays. For specials and donut topping updates, visit the Duck Donuts Greensboro Facebook page or connect on the web at DuckDonuts.com.
About Duck Donuts
Duck Donuts was founded in 2006 by Russ DiGilio in Duck, North Carolina. His intention? To solve a family vacation problem: "Our family wanted a place to buy warm, delicious & made to order!™ donuts, and when we couldn't find one, we decided to start our own."
By 2011, Duck Donuts had expanded to four Outer Banks locations and the donut business was so successful that DiGilio was continuously approached about franchise opportunities and by fans who begged for a Duck Donuts in their communities. The first franchise opened in Williamsburg, VA, in 2013, and there are now 33 open franchise locations and 136 signed contracts.
Duck Donuts store openings are scheduled for:
Fredericksburg, VA – February
Hilton Head, SC – February
Jacksonville, NC – February
Stafford, VA – February
Alexandria, VA – March
Hershey, PA – March
Pittsburgh, PA – April
Cincinnati, OH – April
Duck Donuts emphasizes the importance of giving back to the local community through their #QuackGivesBack initiatives every month. "Our mission is twofold," says DiGilio, "to serve the most amazing warm, delicious and made-to-order donuts, and to contribute to the communities we call home."
The Duck Donuts Experience
"We discovered that the most powerful marketing advantage we have is the aroma of warm donuts wafting from every store. Our light vanilla cake donut is a little crispy on the outside and fluffy on the inside, made fresh right in front of you, hand-dipped in hot icing, and sprinkled with your choice of delicious toppings and drizzles. It's that simple," says DiGilio.
Children love to stand on the strategically placed step in the waiting area, allowing them to see the entire process, as the donut machine cooks and carries their donuts down the line, where they are dipped, topped, packaged, and served warm in the box. Duck Donuts serves its own signature coffee blends—Riptide Roast, Light House Blend, and Sunset Pier Decaf with new special seasonal flavors changing throughout the year—and offers breakfast options, as well as catering services. Indoor and outdoor seating is available at most locations.
To learn more or to share your Duck Donuts experience, Like us on Facebook, follow us on Instagram, or send us a Tweet.
###