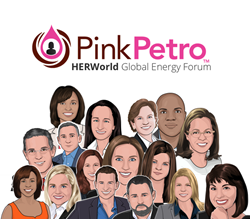 The global energy industry is entering the dawn of a new era and for the workforce, that's exciting. - Katie Mehnert, CEO of Pink Petro
HOUSTON, TEXAS (PRWEB) January 31, 2017
Pink Petro, the community for women in energy, will gather industry executives, professionals and students on March 8 for the second HERWorld Energy Forum at the Jones Graduate School of Business on the campus of Rice University. The event will be streamed globally with U.S. local events in Denver, Baton Rouge, New Orleans, Bakersfield, Wheeling and Puget Sound. Internationally, forums will be held in Kenya, Nigeria, The United Kingdom and parts of Western Europe. Celebrating on International Women's Day, the event begins at 8:00 a.m. and ends at 5:00 p.m. Central Time.
The forum is a unique event that addresses new frontiers in the energy industry where business, workforce, innovation and policy intersect. This year's theme is "The Next Era of Energy: Lean In, All In, and Join In." ABC-TV anchor Gina Gaston and Editor-in-Chief of the Houston Business Journal Giselle Greenwood will co-emcee.
Sessions include:

Leaning into the Energy Transition
All in: How First Work Cultures Are Failing Us
The Impact of Digital Technology and The Fourth Industrial Revolution on Energy
Navigating Your Career in a Downturn
Join in: Owning the Energy Conversation
Katie Mehnert, founder and CEO of Pink Petro, said, "The evidence of dramatic change is all around us, and it's happening at exponential speed. The global energy industry is entering the dawn of a new era and for the workforce, that's exciting."
"Our location in Houston, our eye to the future, and our support of diversity and inclusion make this collaboration with Pink Petro and the business school a natural fit," said Peter Rodriguez, dean of the Jones Graduate School of Business. "We are thrilled to be a part of it."
Keynotes include Jeffrey Hayzlett, chairman of the C-Suite Network; Josh Levs, author, UN gender advocate and former CNN correspondent; and Johnna Van Keuren, Vice President, Wind Operations and HSSE, New Energies with Royal Dutch Shell. Presenters include Christina Sistrunk, CEO of Aera Energy; Tandra Jackson, Managing Partner of KPMG LLP; Vicky Bailey, chairman of the United States Energy Association; Dr. Mikki Hebl, Martha and Henry Malcolm Lovett Chair of Psychology and professor of management at Rice University; and Nick Candito, Forbes Top 30 under 30 and co-founder of Progressly. The conference will open with Sami Murphy who will sing her original song, "Energy".
For a full agenda, speakers, and registration, visit the HERWorld website.
HERWorld17 sponsors include the Jones Graduate School of Business at Rice University, KPMG LLP, Shell, GE, Spectra Energy, Marathon Oil, Cabot Oil & Gas Corporation, S&B Engineering and Constructors, Progressly, Workday, Challenger Gray Christmas, Spring Rock Energy, The Golden Tulip Nairobi. Hosts include The University of Colorado Denver Global Energy Management Program and the LSU Center for Energy Studies.
###
About Pink Petro
Pink Petro is a leading professional development company and online professional community aimed at disrupting the gender gap in energy and defining the future of the workforce and supply chain. Pink Petro™ has members in 120+ countries in 500+ companies across the energy value chain.