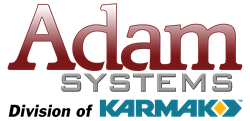 From accounting, fixed operations, to sales and inventory, everything that was put in place is working perfectly. From being in the business for 39 years now, I have to say the support that ADAM has given us is second to none
Spanish Fort, AL (PRWEB) January 25, 2017
ADAM Systems, a provider of dealer management solutions for the automotive industry, is pleased to announce that the ADAM System DMS is approved for data integration with Dealer Daily, Toyota's dealer communication system.
The integration between Toyota's Dealer Daily and the ADAM System DMS will provide clients with real-time, secure, and cost-effective communications across multiple departments, including Vehicle Sales, Parts, and Service.
"In piloting the Dealer Daily Toyota integration with our DMS, we found that ADAM Systems made it a very simple integration without any disruption," says Tom Conner, Fixed Operations Director of Bayside Auto Group. "From accounting, fixed operations, to sales and inventory, everything that was put in place is working perfectly. From being in the business for 39 years now, I have to say the support that ADAM has given us is second to none."
The Dealer Daily Open Access interfaces have been developed per the Toyota Technical Specifications and the standards set by the Standards for Technology in Automotive Retail (STAR), and is available to all Toyota dealerships running ADAM System DMS in the TMS region.
Acquired by Karmak in 2016, ADAM Systems was founded in 1979, and specializes in dealer management solutions for automotive dealerships across North America and Puerto Rico. ADAM Systems' Windows-based DMS is integrated with 18 major automotive OEMs, and enables dealerships to manage their operations from one user friendly portal, with no long term contracts and no proprietary equipment. From payroll to parts inventory to profitability drivers, ADAM manages the details that keep dealerships running smoothly. To learn more, visit adamdms.com or stop by booth #4825 at the upcoming NADA Convention.