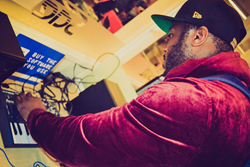 Miami, FL (PRWEB) January 26, 2017
The International Music Software Trade Association (IMSTA) and SAE Institute will kick off their annual one-day celebration of music technology event, IMSTA FESTA, at SAE Institute's Miami campus on Saturday, February 25, from 11:00am to 6:00pm.
SAE Institute will be hosting the event for the fifth consecutive year, but for the first time at its Miami campus. IMSTA FESTA Miami 2017 will bring together members of the music making community to engage in provocative discussions about the state of the music industry.
IMSTA FESTA is free with registration and open to anyone with a passion for or interest in music production. Attendees will be networking with, learning from, and sharing ideas with educational institutes, semi-professionals, amateurs, students, professionals, songwriters, audio engineers, and influential "heavy hitter" industry leaders.
SAE Institute and IMSTA have teamed up to design an innovative, creative event in a vibrant and exciting atmosphere for music makers to learn from some of the best minds, innovators, and industry professionals through interactive panel discussions, workshops, and master classes. Aspiring music industry professionals can learn about the latest music software technology as well as strategies and techniques to help them succeed in the business.
An interactive event, IMSTA FESTA Miami highlights will include:
KEYNOTE

Featured keynote speaker, GRAMMY®-nominated Engineer/Producer, Frank Socorro, will be delivering his keynote address at 12:00pm. Frank has worked with multi-platinum selling artists including Amy Winehouse, Jamie Foxx, Lenny Kravitz, and Mary J. Blige. Frank is also a Career Services Representative at SAE Institute Miami.
SONG CRITIQUE

Songwriters can have their tracks reviewed by a music industry professional between 2:00 – 5:00pm. This offers an exciting opportunity to have your song reviewed and entered in the IMSTA FESTA Songwriting Competition. The grand prize is a trip to Black Rock Studios in Santorini, Greece.
PANELS

IMSTA FESTA is proud to offer another series of exciting educational panel discussions featuring industry experts sharing first-hand perspective on the state of the music industry, music production, insights on the use of legal software, audio technology, and more.
MASTER CLASSES

Master classes and workshops feature one hour intensive training on cutting edge software with a selection of companies featuring the most coveted products. Hosted by IMSTA members, attendees will hear tips, secrets, and tricks on how to maximize the efficiency of some of the best software tools on the market.
EXHIBITS

The event features non-stop, live product demonstrations from audio equipment and software manufacturers. Learn about the latest studio gear, software, and equipment, and have a chance to win software.
IMSTA FESTA Miami will take place on Saturday, February 25 from 11:00am – 6:00pm at the Miami campus of SAE Institute located at 16051 W. Dixie Highway, Suite 200, North Miami Beach, FL. IMSTA FESTA Miami is open to the public, and admission is free with online registration.
About SAE Institute
SAE Institute provides aspiring creative media professionals with a foundation of practical theory and valuable hands-on training in their chosen areas of concentration. Under the guidance of industry-experienced faculty, students gain the essential experience they need for entry-level jobs in the creative media industry. Students are supported in their job searches by SAE's international network of alumni, many of whom are leaders in the music, film, game arts, and live performance arenas. SAE Institute offers programs in Audio Technology in seven US campuses, along with a Music Business program at select locations, all fully accredited and focused on preparing students for employment upon graduation. Bachelor's Degree programs in Animation & Visual Effects, Digital Filmmaking, Game Art & Design, Interactive Audio, and Sound Arts are available at SAE Institute San Jose and SAE Expression College in the San Francisco Bay Area, formerly Ex'pression College. SAE Institute Group, Inc. is a part of Navitas LTD. Learn more at usa.sae.edu.
About Navitas
Navitas is an Australian global education leader, providing pre-university and university programs, English language courses, migrant education and settlement services, creative media education, student recruitment, professional development, and corporate training services to more than 80,000 students across a network of over 120 colleges and campuses in 31 countries. Learn more at Navitas.com.