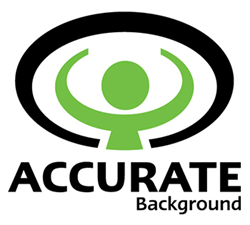 Incorporating our background check solutions within the SAP SuccessFactors solutions will make life much easier for hiring managers
Irvine, CA (PRWEB) January 26, 2017
Accurate Background is continuing to build out its software partnerships with the announcement that it has joined the SAP® PartnerEdge® program as a partner that designs, develops and builds software integrated with SAP solutions. Through its participation in the program, it is now announcing the availability of its employment background check services, which run on SAP SuccessFactors® solutions. The offering provides customers with integrated employment background checks, drug testing and verification services without having to leave the SAP SuccessFactors software environment. The company launched its storefront where it will market its background screening application.
As an SAP partner, Accurate Background developed its application leveraging tools and resources from SAP, including the SAP SuccessFactors solutions.
"Incorporating our background check solutions within the SAP SuccessFactors solutions will make life much easier for hiring managers," said Maria Kirgan, VP of Product Management at Accurate Background. "Hiring managers are always looking for efficiency within their applicant tracking system. Our solutions will help automate their employee onboarding process by initiating the background check process with the click of a button, which ultimately reduces time to hire. We are thrilled to offer this new best-of-breed partner solution to our current and future clients."
As an SAP partner in SAP PartnerEdge, Accurate Background is empowered to build, market and sell software applications on top of market-leading technology platforms from SAP. The program provides the enablement tools, benefits and support to facilitate building high-quality, disruptive applications focused on specific business needs – quickly and cost-effectively. The program provides access to all relevant SAP technologies in one simplified framework under a single, global contract.
About Accurate Background
Accurate Background is a trusted provider of automated workforce screening. U.S. and international clients across all industries, from emerging businesses to Fortune 500 companies, rely on their compliant solutions. Accurate Background is accredited by the National Association of Professional Background Screeners. The company has been recognized by Inc. 5000, Deloitte Technology Fast 500, and the Workforce Hotlist. To learn more about Accurate Background, visit http://accuratebackground.com/.
# # #
SAP, PartnerEdge, SuccessFactors and other SAP products and services mentioned herein as well as their respective logos are trademarks or registered trademarks of SAP SE (or an SAP affiliate company) in Germany and other countries. See http://www.sap.com/corporate-en/legal/copyright/index.epx for additional trademark information and notices.
All other product and service names mentioned are the trademarks of their respective companies.