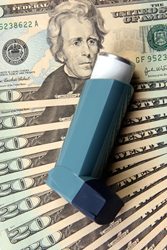 We developed a severity prediction tool that can be used by payers and provider networks to better manage asthma earlier in the disease and therapy process.
White Plains, New York (PRWEB) January 31, 2017
eMAX Health Systems, LLC announced the results of new research showing almost 200% higher health care costs in patients with elevated peripheral blood eosinophil counts - a key biomarker for severe asthma and asthma exacerbations - compared to those with normal eosinophil counts. This important finding can help identify the high-risk patient with asthma to better manage the disease and reduce costs to the private and government health insurance industry struggling to manage growing asthma costs, estimated to approach $60 billion per year in medical expenses, missed school and work days, and early deaths.
Almost 26 million Americans, or 1 in 12 people, suffer from asthma. Ten percent of patients with asthma, typically those with poorly controlled disease, are responsible for a sizable proportion of all asthma costs. Identifying high risk patients by phenotype biomarkers like elevated peripheral blood eosinophils is vital to managing the disease.
"This important research has demonstrated that eosinophil elevation can help doctors and insurers predict which patient may be at greater risk of developing uncontrolled asthma," said Julian Casciano, CEO of eMAX Health, who led the research team. "We developed a severity prediction tool that can be used by payers and provider networks to better manage asthma earlier in the disease and therapy process. This can save money and improve outcomes." Analysis by Casciano et al. found that uncontrolled asthma with elevated eosinophils had 2 times greater hospital admissions than without elevated eosinophils.
The research reported 1-year health care costs were more than $28,000 in those with uncontrolled asthma with eosinophil elevation compared with $14,000 for those with normal range eosinophils. The association of eosinophil elevation with greater health care burden was persistent, irrespective of asthma control status. The complete peer-reviewed 2-article, available at eMAX Health's website, was published in the January 2017 issue of the Journal of Managed Care & Specialty Pharmacy (the official journal of the Academy of Managed Care Pharmacy). The risk stratification tool utilized asthma severity definitions based on recent European Respiratory Society and the American Thoracic Society (ERS-ATS) guidelines.
The research study was based on nearly 3,000 patients with a diagnosis of asthma derived from the EMRClaims+ database containing electronic medical records integrated with insurance claims. The integrated EMRClaims+ database has been used in dozens of published and proprietary health outcomes research projects serving the pharmaceutical, health insurance, and technology assessment industries across the globe.
About eMAX Health: eMAX Health Systems, LLC is a research and consulting company leveraging the eMAX Health Network and EMRClaims+ database to conduct global health outcomes research and data analysis in support of pharmaceutical product commercialization and market access.