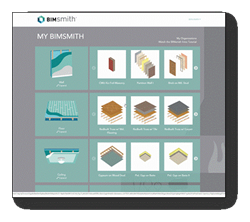 Hunter panels is committed to being efficient and green, so partnering with a platform that allows industry professionals to become more efficient and accurate makes sense
Portland, Maine (PRWEB) January 26, 2017
Architects and other building professionals now have a simpler way to specify energy-efficient polyisocyanurate insulation ("polyiso") for commercial buildings. Hunter Panels, a leading manufacturer of polyiso insulation, has committed to making its products available through the foremost building information modeling (BIM) systems. To that end, Hunter is partnering with BIMsmith® by Anguleris Technologies® to incorporate Hunter's Xci exterior wall polyiso products.
BIM allows architects, designers, and other building industry professionals to create 3D representations of building projects with actual building components. This virtual building tool is becoming the design standard around the world as it reduces project time and errors. The BIMsmith platform goes a step farther by allowing architects and other industry professionals to quickly combine manufacturer specific and generic content into one system, just as the products will be combined in the built project. By comparison, the traditional manner of specifying in the later stages of design, or leaving generic sizes within a project leads to errors and extra time in research and specification. BIMsmith allows for fast and accurate specification, making the design professional's job easier.
"Hunter panels is committed to being efficient and green, so partnering with a platform that allows industry professionals to become more efficient and accurate makes sense," said MacGregor Pierce, Hunter Panels Xci product manager. "We know that errors in BIM designs can lead to costly and wasteful mistakes, and BIMsmith helps designers to avoid such mistakes and save time. Offering the latest in BIM adds to our suite of other tools for simplifying product specification, such as our extensive set of NFPA 285 compliant wall assembly charts for simpler development of fire-rated walls using Hunter Xci insulation."
"BIM is leading product selection in the AEC industry, and we are so pleased that an insulation industry leader like Hunter Panels is making a commitment towards ease of use for AEC Pros," said Benjamin Glunz, CEO of Anguleris Technologies. "More than ever, the desire for accurate manufacturer BIM content and an easy way to integrate that information into projects, is widespread."
To build with Hunter Panels' BIM content, or to create a free BIMsmith account, visit: http://www.bimsmith.com.
About Hunter Panels Xci
Hunter Panels Xci, a product line from Hunter Panels, provides high-thermal, exterior continuous polyiso wall insulation products. Hunter Xci is headquartered in Portland, Maine, with manufacturing at seven state-of-the-art polyiso manufacturing plants in New York, Pennsylvania, Florida, Illinois, Texas, Utah, and Washington. For more information, visit http://www.hunterpanels.com or call 888-746-1114.
About Anguleris Technologies
Anguleris Technologies® is the construction industry's virtual product placement expert, providing manufacturers with holistic Building Information Modeling (BIM) solutions through the industry's foremost BIM platform, Autodesk Revit®. With a 4-point BIM strategy and its flagship product BIMsmith®, Anguleris cultivates global business-to-business relationships between architects, designers, and builders with data-rich digital representations of real products. Through every stage of project development, Anguleris helps to shape the future of building technology, placing its clients at the forefront of BIM innovation.