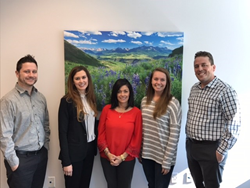 April, Brandy, Doug, Jessica, and Steve represent a powerful presence in the market, and their ability to find the right people for the right job speaks for itself.
Denver, Colorado (PRWEB) January 26, 2017
Corus360, a technology company that strives to empower clients through people, technology, and resilience, has thrived since its Denver, Colorado expansion in 2013. In order to enhance the company's People as a Service (PaaS) offerings in the West, Corus360 has assembled a team that consists of April Holland, Doug Lobdell, Brandy Busby, and Jessica Sample, and is headed up by Steve Riescher.
"People as a Service is ready to start a strong 2017. We've brought together a group of talented individuals to make an impact in the Western region, and I am thrilled to be working with them," said Steve Riescher, Director of PaaS in the West at Corus360.
People as a Service focuses on providing companies with the skilled resources they need to run their businesses. This allows Corus360 to help clients improve their technical infrastructure on all levels. In addition to selecting ideal technologies and providing seamless resilience, PaaS allows Corus360 to also provide clients with the perfect people to maintain and utilize the former two. As Corus360's market expands, growing its PaaS branch is necessary to continue providing quality service to clients, and part of that is having a strong team in the Western region.
All the members of the new team are dedicated and well tenured staffing professionals with proven track records of success. April Holland was promoted to Account Manager of the region after two prolific years in the Atlanta office, during which she won the Corus360 Leadership Award, which honors one outstanding employee in the company each year for outstanding commitment and dedication to excellence. Brandy Busby also carries a strong portfolio, having been nominated for the TAG Young Professionals #OneinaMillenial Award in 2015, a testament to her understanding of the use of social media. Doug Lobdell brings a background ranging from branch management to staffing sales, which gives him an exceptional amount of experience working with customers of all kinds, and Jessica Sample is a skilled IT recruiter who has provided excellent service to her customers in the Denver IT community for the past decade by putting people first. They are led by Steve Riescher, a seasoned manager with over 15 years of experience in his field.
"Corus360's People as a Service branch in Denver is only beginning to grow," said Holland regarding her recent promotion. "I can't wait to delve into the talent network here and start providing the high-impact services that I did to my clients in Atlanta to my new ones here. Businesses in Denver have an unprecedented need for skilled IT professionals, and I'm eager to get started with my new team."
"People as a Service has never been more alive in Denver," said Steve Johnson, CEO of Corus360. "April, Brandy, Doug, Jessica, and Steve represent a powerful presence in the market, and their ability to find the right people for the right job speaks for itself. I can't wait to see what they will accomplish in the coming months."
About Corus360
Corus360 is a technology consulting and solutions company with more than ten years of success delivering infrastructure solutions, recovery, and consulting services that help organizations reduce costs, increase efficiencies, and maximize productivity. We specialize in best of breed infrastructure solutions, IT management consulting, IT Staffing, application development, Data Center technologies, disaster recovery, managed services, and enterprise applications. For more information, visit http://www.corus360.com.