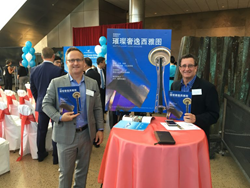 Seattle Luxury Living is a unique platform to engage with this emerging consumer group here at home and overseas
Seattle, WA (PRWEB) January 26, 2017
This Spring, for the second year in a row, Realogics Sotheby's International Realty (RSIR) is sponsoring the publishing of the glossy, all-Mandarin magazine "Seattle Luxury Living", which is catered to Chinese consumers in the Pacific Northwest as well as those seeking real estate and lifestyle opportunities throughout the Seattle metro area. Tiger Oak Media, owner of Seattle Magazine, Seattle Bride, and Seattle Business Magazine is the publisher and will include exclusive real estate content provided by RSIR along with featured listings, lifestyle editorial, and third-party advertisers.
"The premier edition in 2016 was so successful, we ran an encore edition in September of 30,000 copies in print with more than 70,000 digital editions downloaded via Wechat last year," said Dean Jones, President & CEO of RSIR. "The Seattle area is the fastest-growing market among mainland Chinese seeking education, investment, and immigration opportunities in North America. Seattle Luxury Living is a unique platform to engage with this emerging consumer group here at home and overseas."
Jones points to a recently released report by Juwai.com, a leading real estate portal in China, that notes Seattle has become a top property search for Chinese following the announcement that the BC government imposed a 15-percent foreign buyer tax on non-resident real estate purchases in the City of Vancouver on August 2, 2016. During the second half of 2016, monthly inquiries on Juwai.com for Seattle rose by an average of 66-percent year-over-year whereas Vancouver dropped by an average of 43.4%.
"After the Vancouver tax was imposed, Seattle experienced four straight months of significant year-on-year growth rates, ranging from 62.5% in August to 125% in November," said Matthew Moore, President of the Americas for Juwai.com. "December is the exception, with a year-on-year growth rate of just 1.8%. Was December an anomaly or can we expect the flattening of Seattle growth rates to persist? We will have to wait to know for sure. Early evidence in the form of anecdotal information from agents and buyers suggests that Seattle remains a very popular destination, with market conditions remain appealing, so the safest forecast seems to be that demand growth will continue."
Juwai also reports that the most read article in December 2016 was a post "Seattle vs. Vancouver: History repeating or lesson learned?", which was authored by Ben Briggs of Briggs Freeman Sotheby's International Realty, whom is based in Xiamen, China, and featured content provided by RSIR. Briggs and Jones have also collaborated on a new book "Chinese Institutions' Definitive Guide to USA Commercial Real Estate", which is set to be distributed in February 2017.
Promoters of "Seattle Luxury Living" have begun selling premium advertising positions to five-star hotels, retailers, furniture stores, jewelers, and real estate developers. A print run of 25,000 copies will be distributed via the international baggage claim terminal at SeaTac International Airport as well as at select airport lounges, five-star hotels, featured retailers, Starbucks Reserve, and RSIR retail stores by June 2017. Additionally, the digital version of Seattle Luxury Living will be available on RSIR's exclusive Wechat portal, which has the potential to reach more than 700 million active subscribers worldwide including those inside China's firewalls. Consumers within China are not able to view western media sources such as Facebook, YouTube, or even Google results.
"The Pacific Northwest has become a global real estate market and our Chinese magazine is just a sign of the times" said John Spear, Publisher of Tiger Oak Media's Seattle Luxury Living. "Asian consumers are the fastest-growing demographic in the region and a major consumer of luxury products and services. Many local businesses are eager to welcome this rising international clientele."
RSIR brokers report a record year of home sales to mainland Chinese buyers, which represented about 50-percent of the top sales in many Eastside neighborhoods, which is up from about 33-percent the prior year. Leading the trend, RSIR developed its exclusive 14-member Asia Services Group that are specialized in the language and logistics of international sales.
"We are discovered," adds Jones. "The truth is I haven't been to China in more than year because Chinese buyers are coming here."
Travel experts are predicting a record volume of Chinese tourists in the region with the Chinese New Year on January 28, 2017. A report by Juwai.com cites 92-percent of Chinese surveyed plan to travel internationally in 2017 and 42-percent plan to explore real estate opportunities during their holidays. The Hurun Chinese Luxury Consumer Survey 2017 reports half of their respondents still plan to emigrate from China. SeaTac International Airport currently hosts three airlines offering direct flights to China; including Hainan Airlines, Delta Airlines and Xiamen Airlines.
To advertise in the spring 2017 edition of Seattle Luxury Living, contact John Spear at 206.293.9873 or email John.Spear(at)tigeroak.com