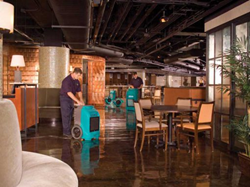 Las Vegas, NV (PRWEB) January 31, 2017
ServiceMaster Emergency Management Team (EMT) began business in the San Diego, CA area in 1982 and is now a leading provider of disaster restoration and cleaning services in Las Vegas, NV and the surrounding areas. RestorationMaster has recently made ServiceMaster EMT a new addition to RestorationMasterFinder.com with micro-sites that cover Las Vegas as well as Henderson, NV; Boulder City, NV; and other nearby communities. Each of these micro-sites is highly optimized to improve ServiceMaster EMT's digital marketing outreach by attracting more local search traffic.
The micro-sites that were built for ServiceMaster EMT include service pages for each of their main services including water damage restoration, fire and smoke damage restoration, storm damage restoration, mold remediation, deodorization, hoarding cleaning and several others. These pages are optimized to rank well in the results for relevant searches done by people looking for these specific services within ServiceMaster EMT's service area. This will increase traffic to the micro-sites which will result in quality sales leads and a higher conversion rate.
About RestorationMasterFinder.com
RestorationMasterFinder.com, or RMF, is a cost-effective lead generation website that helps get quality sales leads for businesses of the disaster restoration, furniture restoration, and cleaning industries. Proceed Innovative built RMF to generate sales leads for listed businesses through optimized micro-sites that attract local search traffic to the relevant service pages. RMF is visible on the biggest search engines including Google, Yahoo, and Bing as well as many local, vertical, and social media web portals.
About ServiceMaster EMT
ServiceMaster EMT was founded in 1982 in San Marcos, CA and quickly grew to provide services in all of southern California, southern Arizona, and southern Nevada. The technicians of ServiceMaster EMT are highly trained and committed to providing quality restoration services with the best equipment and cleaning products of the industry. They respond quickly to emergency situations to limit the damage and bring peace of mind to homeowners and business owners that have experienced property damage. Give ServiceMaster EMT a call at (702) 786-1999 to learn more.