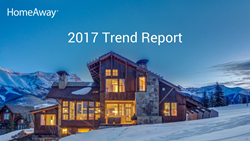 AUSTIN, Texas (PRWEB) January 26, 2017
Americans will head for the hills for vacation in 2017, driving longer distances to spend more time at increasingly private accommodations. Such (in a nutshell) are findings highlighted in the first-ever HomeAway® 2017 Trend Report, which uncovers emerging vacation trends via data from independent research and the world leader in vacation rentals.
Among the report's surprises are off-the-beaten-path locales where demand for home rentals is growing fastest, with mountain towns like Hurricane, Utah; Sautee Nacoochee, Georgia; and Cleveland, Georgia, in the top five, along with smaller cities like Waco, Texas.
Other key trends identified in the report include:

Privacy rules: A mere 11 percent of travelers would consider renting a shared space as their top vacation choice.
Longer hauls: Increasingly adventurous Americans are traveling farther to their destinations; the average distance traveled from origin to a home rented on HomeAway jumped by 15 percent, from 533 miles in 2015 to 611 miles in 2016.
Longer stays: We are making our time away count; the number of days spent in vacation homes rented on HomeAway skyrocketed by 27 percent during 2016.
More family-minded millennials: Often typecast as explorers, 68 percent of millennials cite family time as the most important part of their vacations.
Addressing the surprise up-and-coming destinations, Karen Fuller, HomeAway senior director of global market research, said, "We are seeing a kind of 'HomeAway Effect' taking hold. The growth in vacation home rental availability in places where hotels simply don't exist, or can't satisfy demand, is starting to shape where and how travelers are vacationing in the U.S."
Fuller said the growing popularity of mountainous destinations is especially intriguing. A recent study by HomeAway and the University of Texas at Austin found mountain vacations to be more memorable than trips to other kinds to destinations.
The full HomeAway 2017 Trend Report with expert analysis is available at http://bit.ly/HomeAwayTrendReport2017.
Sources: Phocuswright Rental Traveler Survey (2016); Millennial Mix Travel Study (2016); HomeAway User Data (2016)
-more-
About HomeAway
HomeAway, based in Austin, Texas, is the world leader in vacation rentals with sites representing more than one million online bookable vacation rental homes in 190 countries, and is a part of the Expedia, Inc. family of brands. Through HomeAway, owners and property managers offer an extensive selection of vacation homes that provide travelers with memorable experiences and benefits, including more room to relax and added privacy, often for less than the cost of traditional hotel accommodations. The company also makes it easy for vacation rental owners and property managers to advertise their properties and manage bookings online. The HomeAway portfolio includes the leading vacation rental websites HomeAway.com, VRBO.com, andVacationRentals.com in the United States; HomeAway.co.uk and OwnersDirect.co.uk in the United Kingdom; HomeAway.de in Germany; Abritel.fr and Homelidays.com in France; HomeAway.es and Toprural.es in Spain; AlugueTemporada.com.br in Brazil; HomeAway.com.au and Stayz.com.au in Australia; Bookabach.co.nz in New Zealand; and in Asia, HomeAway.asia. The company also operates BedandBreakfast.com, the most comprehensive global site for finding bed-and-breakfast properties, providing travelers with another source for unique lodging alternatives to chain hotels. For more information about HomeAway, please visit http://www.homeaway.com.
© 2017 HomeAway. All rights reserved. HomeAway and the HomeAway logo are trademarks of HomeAway. All other trademarks are property of their respective owners.