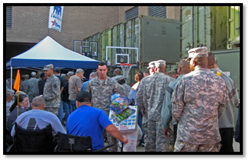 Washington, DC (PRWEB) January 26, 2017
The Disabled Veterans National Foundation (DVNF) (http://www.dvnf.org) issued a statement on the recent federal hiring freeze, ordered by President Trump on Monday.
Emphasizing the impact the freeze could have on veterans, DVNF CEO, Joseph VanFonda (USMC SgtMaj Ret.) issued the following statement:
This hiring freeze will likely have an impact on veterans, one way or another. It could pose a major hurdle countless veterans seeking jobs within the federal government.
Veterans account for nearly one-third of the federal workforce, and thousands who have served our nation could find themselves in a difficult position as they transition into civilian life. Many veterans are better equipped for government positions than they are in the private sector because of their military experience, so we hope that this measure doesn't put an unnecessary burden on veterans seeking employment.
DVNF also announced its commitment to helping veterans find gainful employment. Through a new partnership with Joseph A. Bank, DVNF will be sending a shipment of new suits to a Detroit job fair in February.
Veterans in search of employment will have the opportunity to pick out a suit and no cost to them. In addition, DVNF will provide these veterans with Visa gift cards to cover the cost of getting their new suit tailored.
Final details of the new initiative are still being finalized, but the organization hopes to continue this effort at more veteran job fairs throughout the country in the future.
About DVNF:
The Disabled Veterans National Foundation exists to provide critically needed support to disabled and at-risk veterans who leave the military wounded—physically or psychologically—after defending our safety and our freedom.
We achieve this mission by:

Providing an online resource database that allows veterans to navigate the complex process of seeking benefits that they are entitled to as a result of their military service, as well as additional resources they need.
Offering direct financial support to veteran organizations that address the unique needs of veterans, and whose missions align with that of DVNF.
Providing supplemental assistance to homeless and low-income veterans through the Health & Comfort program and various empowerment resources.
Serving as a thought leader on critical policy issues within the veteran community, and educating the public accordingly.