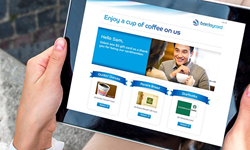 St. Louis, MO (PRWEB) January 30, 2017
Maritz Motivation Solutions, a leading provider of loyalty programs to major companies and brands, has launched the LoyaltyNext® Gift Portal, allowing loyalty program members to choose their own custom rewards. Gift Portal is a marketing tool for brands to solve common loyalty challenges such as attracting new members, showing customer appreciation, and resolving service failures, according to Barry Kirk, vice president of Loyalty Solutions for Maritz Motivation Solutions.
Kirk said that many industry loyalty programs are redemption programs which follow a "mercenary" model: consumers have to give something to get something. Gift Portal allows brands to recognize customers in unexpected ways, without a quid pro quo, strengthening and reinforcing the customer relationship, he said.
"As membership in loyalty programs increases, brands are faced with the constant challenge of maintaining consumer appeal with meaningful rewards and memorable experiences. Gift Portal is an engagement tool that bridges the gap between your customer and your brand," Kirk said.
Gift Portal enables brands to be unique and distinctive by inviting specific groups of customers to engage in an unexpected interaction with the brand. Gift Portal works in a few simple steps. Brands select which customers will receive special rewards and the gifts they can choose. Maritz notifies customers through a personalized invitation to access a branded, web-based experience to select their gift, and ships it to the customer.
Barclaycard, a leading issuer of credit cards and co-branded programs, employs the LoyaltyNext Gift Portal for its ongoing customer appreciation campaigns. These campaigns thank customers for their loyalty by offering a curated selection of consumer gift cards.
According to Maureen Connors, vice president of Marketing Planning for Barclaycard US, the company is focused on ongoing research and evaluation of the customer service experience. Gift Portal is a solution that enables Barclaycard to act on that insight, Connors said.
"The special offers via Gift Portal provide another way to reward our customers for their business and loyalty, and allow us to see the impact of a customer appreciation strategy. Customers who receive appreciation offers are more likely to recommend Barclaycard than non-targeted customers," she said.
In 2016, Barclaycard's customer campaigns using Gift Portal were recognized by the Loyalty 360-CX Awards.
"We believe Gift Portal is a simple, but powerful tool to help brands address a number of customer engagement challenges and opportunities. They can surprise and delight customers with unanticipated offers, and they can save the day by reaching customers in cases of breakdowns in service," Kirk said.
About Maritz Motivation Solutions
Maritz Motivation Solutions is part of the Maritz family of companies. The company is a leader in providing consumer loyalty programs to U.S. and global companies. LoyaltyNext® is the full-service loyalty solution powered by Maritz Motivation Solutions. LoyalytNext provides best-in-class technology, decision sciences, creative and reward fulfillment services for global brands seeking to drive customer growth and retention and loyalty program ROI. For more information, visit http://www.maritzmotivation.com, subscribe to our loyalty marketing blog, follow us on Twitter or call 1-877-4-Maritz (1-877-462-7489).