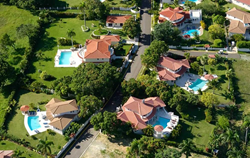 The bottom has been hit and now, up it goes.
Cabarete, Dominican Republic (PRWEB) January 30, 2017
Dominican Republic-based company Ocaribe.com is starting to offer the most exclusive properties and offering in-house previews of every house you wish to visit.
The Dominican Republic's residential property market is growing fast, thanks to robust tourism growth and the arrival of luxury international and boutique hotels. Stay-over tourists number rose by 8.9% to around 5.6 million, following an average annual growth of 5.2%.
After long preparations and research, Ocaribe launched its offices in the biggest tourist cities - Puerto Plata, Sosua, Cabarete and Rio San Juan, and will expand to Las Terenas and La Samaná next year.
A stable government, an improving infrastructure, and easy access via its three international airports further encourages foreigners to buy Dominican Republic properties, and that's why Ocaribe was created.
From taking a trip to the Dominican Republic to getting picked up and accommodated, Ocaribe offers to show a variety of exclusive houses and make the buying experience as smooth and enjoyable as possible.
Due to increasing popularity of Dominican Republic-based properties, lack of client service and client-friendly support in the property management industry, Ocaribe is starting to rapidly increase the size of the client base and variety of services it provides.
Ocaribe is here to help investors and families find their dream house or investment. Featured in the main Real Estate news for international investments and supported by local government, Ocaribe is the best choice when finding a luxury house in the Caribbean. It was an award-winning company for best client service in tourism-based countries in 2016.
Find more information about how Ocaribe can make your dream become reality here: