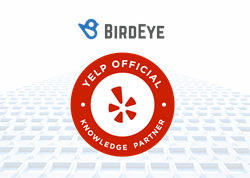 Applying the BirdEye insights engine on over 115 million Yelp reviews gives businesses an unprecedented grasp on their customer sentiment and purchase intent.
(PRWEB) January 30, 2017
BirdEye today announced that is has partnered with Yelp to offer businesses BirdEye's industry-leading customer experience platform, that now includes access to Yelp's 115 million reviews. BirdEye customers will have full authorized access to verified Yelp reviews across all industries, from restaurants to spas to healthcare and dental practices.
With the Yelp Knowledge partnership, BirdEye customers can monitor and manage Yelp reviews directly within the BirdEye platform. Integrating data from Yelp, a leader in the consumer review space, enhances the breadth and depth of BirdEye, which already analyzes real-time reviews, surveys, and unstructured social content from 200+ websites. BirdEye is used by 15,000+ businesses to improve their online presence, reputation and customer experience.
"We're excited to partner with BirdEye to further our mission of connecting people with great local businesses, and enabling those businesses to get the most out of Yelp," said Jason Chow, Director of Business Development at Yelp. "For local businesses, it's imperative to stay engaged with their online reputation and provide an outstanding customer experience, and BirdEye helps them achieve this goal."
In addition to providing full review text from Yelp, BirdEye will also conduct sentiment analysis on Yelp reviews via its Natural Language Processing (NLP) engine, Athena. Integrating NLP insights from Yelp reviews alongside 200+ other review sources will allow businesses to pinpoint root cause of positive and negative sentiment driving online ratings, enabling tactical improvements at an individual store level, as well as strategic development across their brand.
"Yelp has deep customer data at location level," said Naveen Gupta, CEO of BirdEye. "Applying the BirdEye insights engine on over 115 million Yelp reviews gives businesses an unprecedented grasp on their customer sentiment and purchase intent. It allows them to focus on customer experience and ultimately become better businesses."
Some advantages that BirdEye customers will enjoy as a result of Yelp partnership include:
-Online presence - update their business details (business name, phone, address, etc.) on Yelp
-Review monitoring - get direct access to their verified Yelp reviews
-Review alerts - Accurate and up-to the-moment updates on their reviews using Yelp's private connection
-Review management - respond to both positive and negative reviews on Yelp
-Reports and insights - based on all their reviews on Yelp, across all their locations
-Premium support - direct support and access from Yelp strategic partnerships and operations team
All from one BirdEye dashboard.
About BirdEye: BirdEye is a SaaS platform that reimagines the way customer feedback is used to acquire and retain connected customers by closing the loop between reputation marketing and customer experience. The BirdEye platform enables businesses to get new reviews and captures existing customer sentiment from review sites, social media, Net Promoter Scores, and support cases in real-time. BirdEye converts all feedback into actionable insights so businesses can engage in every step of the customer journey, establish a positive online presence, and benchmark performance across locations and against competitors. In today's reputation economy, BirdEye provides the eyes, ears and algorithms necessary to create a standout customer experience that pleases a consumer society reliant on instant gratification. BirdEye platform is trusted by 15,000+ businesses and prominent F1000 enterprises. BirdEye was founded in 2012 by Google, Yahoo, Amazon alumni and backed by Silicon Valley's who incl. Trinity ventures, Salesforce founder Marc Benioff and Yahoo co-founder Jerry Yang.
Contact: Helen Irias, pr(at)birdeye(dot)com
Phone # 1-800-561-3357