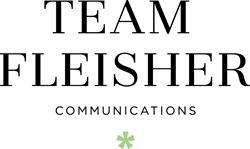 It is especially gratifying to be honored for the campaigns we created and implemented for two organizations that work tirelessly with individuals with special needs.
Columbus, Ohio (PRWEB) February 01, 2017
Team Fleisher Communications is pleased to announce its selection by the East Central District (ECD) of the Public Relations Society of America (PRSA) as a recipient of three 2016 Diamond Awards. The annual awards, prized by PR firms across the region, recognize excellence in public relations (PR) and marketing campaigns. They are given to programs that use exemplary skill, creativity and resourcefulness to successfully address communications challenges.
Team Fleisher was recognized with a Diamond Award for a multifaceted promotion it developed with Osborn Barr, a St. Louis-based advertising agency. Osborn Barr turned to Team Fleisher to secure earned media for a Columbus event for the United Soybean Board, supporting soybean farmers. In addition, Team Fleisher received Merit Awards for its work on behalf of its client Disability Rights Ohio (DRO), an organization dedicated to fighting for the rights of Ohioans with developmental disabilities, and for a community relations campaign it designed for client Eastway Behavioral Healthcare, an organization dedicated to advancing behavioral healthcare services through its innovative programs and services.
"It is especially gratifying to be honored for the campaigns we created and implemented for two organizations that work tirelessly with individuals with special needs," said Marcy Fleisher, founder of Team Fleisher Communications. "I can think of no better way to use the varied skills of our exceptional team of professionals. We are equally as proud of the extensive earned media placements we secured for the United Soybean Board for their Columbus event. The coverage helped educate local farmers about the advantages of growing high oleic soybeans, something that benefits not only them, but consumers, as well."
In March 2016, DRO filed a class action complaint in U.S. District Court (Case No.: 2:16-cv-282) against the state of Ohio and various state agencies on behalf of individuals with developmental disabilities who must live in institutions or are at risk of institutionalization because of Ohio's current service system. Fully aware that this litigation would be controversial and newsworthy, DRO retained Team Fleisher Communications to create and implement a comprehensive communications strategy. Team Fleisher developed a strategic roadmap to increase awareness and clarify DRO's objectives and initiatives, highlight the organization's strengths, weaknesses and challenges, and outline the best communication practices moving forward.
Located in Montgomery County, Eastway Behavioral Healthcare has offered behavioral healthcare, rehabilitation and housing services for Ohio adults and adolescents struggling with mental illness since 1949. For the past 20 years, Eastway has also provided residential programming for Franklin County youth at its Montgomery County location. A 2014 purchase of the former Hannah Neil facility in Columbus allowed Eastway to become an in-county provider, with expanded support and services to the families of Franklin County. However, Eastway was largely unknown in Central Ohio. Administrators understood that "first impressions" would be critical, so they turned to Team Fleisher to create and implement an external strategic communications plan that would introduce the organization to the Central Ohio market.
Osborn Barr, a St. Louis-based advertising agency, turned to Team Fleisher for help with an event. The United Soybean Board, a group of farmer-directors who oversee the investments of the soy checkoff to maximize profit opportunities for all U.S. soybean farmers, was looking for ways to educate farmers about the high oleic soybean business and its benefits. Osborn Barr was looking for a partner to assist them in reaching local consumer media markets in order to reach farmers and encourage them to grow more high oleic soybeans. Together, Osborn Barr and Team Fleisher launched an outreach initiative focused on the annual Columbus Food Truck Festival, which attracts more than 40,000 people over a three-day period. Three participating food trucks agreed to cook with high oleic soybean oil, and several industry and farm leaders were enlisted to talk about high oleic soybean oil and its benefits for food companies. Team Fleisher had three weeks to deliver media coverage. One dozen media stories were secured; with one-third of them live coverage from the festival. The earned media was then leveraged in social media and in marketing collateral sent directly to Ohio farmers, consumers and those in the food industry.
The three awards will be presented to Team Fleisher and other award recipients at a future Central Ohio Chapter event.
Tweet This: @TeamFleisher recognized for excellence in public relations, awarded three 2016 @PRSA East Central #DiamondAwards. #WeveGotThis
About Team Fleisher Communications
Team Fleisher Communications delivers outstanding communications solutions based upon decades of experience. We have a proven track record of securing results for organizations ranging from start-ups to Fortune 500 companies. As senior-level communicators and former journalists, we understand how to tell stories, pitch reporters, secure earned media and leverage coverage. We work fast and efficiently to get the job done right. And we deliver results – always. For more information visit Teamfleisher.com.