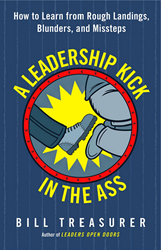 Good leadership often starts with a swift kick in the ass.
ASHEVILLE, NC (PRWEB) January 16, 2017
What do Hillary Clinton, Steve Jobs, Abraham Lincoln, and even President-elect Donald Trump have in common? They've all, at some point in their careers, experienced breathtaking failure. Each was forced to reevaluate everything they had known about leadership up until that point.
Bill Treasurer, international bestselling author and top leadership consultant, says that failures and missteps can provide leaders with their most profound, transformative, and enduring leadership lessons. Years after getting fired from Apple, the company he founded, Steve Jobs said, "It was the best thing that ever happened to me."
Treasurer's new book, "A Leadership Kick in the Ass," released today and available on Amazon and all other major booksellers, makes the case for why a career butt-kicking is a necessity for being a GREAT leader. When you get humbled, you get humble.
According to Treasurer, the chief encouragement officer of Giant Leap Consulting, the world's first courage-building consulting firm, the path that most leaders travel isn't from good to great, it's from decidedly bad to pretty good. Good leaders nearly always start out as bad leaders. Based on his in-the-trenches experiences working with thousands of leaders, Treasurer explores how startling and humiliating experiences can have a powerful impact on a leader's development.
As he puts it: "Good leadership often starts with a swift kick in the ass. Humility, a critically essential leadership attribute, is a byproduct of getting humbled."
To be most effective, Treasurer argues, leaders need to have a balanced blend of confidence and humility. If a leader is all confidence and no humility, he or she runs the risk of becoming arrogant and self-involved. If a leader is all humility and no confidence, people will take advantage of him or her. A Leadership Kick in the Ass shows how to balance these traits at all stages of a leader's career so that he or she can lead with both power and grace.
As Treasurer explains, there are two kinds of leaders: those who have been humbled and those who are about to be. Every leader worth his or her salt will suffer a major setback at some point. Drawing on over two decades of experience, the book is a survival guide, coach, and morale booster. It offers new and seasoned leaders practical tips on how to grow, progress, and evolve after career mess-ups. Specifically, it includes:

the "anatomy of a butt-kick," which details the evolution from humiliation to confidence;
the types of embarrassing events leaders are likely to experience at different stages in their careers, and how to leverage them to be better leaders;
how to acquire the necessity for great leadership, "confident humility"; and
instructions on how to "kick your own ass" to stay humble.
Treasurer is the author of the international bestseller, Courage Goes to Work, which introduced the new management practice of courage building. His other bestselling book, Leaders Open Doors, became the #1 leadership training book on Amazon.
"A Leadership Kick in the Ass" has already received rave reviews:
"This is one of the most unique and valuable books you will read all year." —Jim Kouzes, coauthor of "The Leadership Challenge" and the Dean's Executive Fellow of Leadership, Leavy School of Business, Santa Clara University
"Using candor and humor in equal measure, Bill Treasurer gets real about the leadership advantages of what I'll just call effective redirection. Ha! This book is not just a fun read—it's a wake-up call for leaders at every level." —Ken Blanchard, coauthor of "The New One Minute Manager®" and "Collaboration Begins with You"
"Bill offers tips on how leaders can recover from failure and embarrassment—and he manages to make it sound like fun." –Adam Smith, Wharton professor and New York Times bestselling author of "Originals" and "Give and Take"
"Failure may not be fun… but, as Treasurer has proven in his rich, in-the-trenches experience in business, you can learn more from one failure than from untold wins. A Leadership Kick in the Ass is exactly what you need to pick yourself up, find out what went wrong, and move on, smarter and stronger than ever!" —Marshall Goldsmith, author of "The Thinkers 50 #1 Leadership Thinker in the World"
"Bill artfully describes the harsh, if somewhat humbling, reality that leaders do learn some of the most valuable lessons through 'mess ups!' The approach Bill takes in taking the reader through poignant examples, while offering guidance to seize learning opportunities as they occur, are but a couple of the elements which combine to make this a great read!" —Mark Brasher, CEO, John Varvatos
"A Leadership Kick in the Ass"
By Bill Treasurer
Berrett Koehler Publishing
Jan. 16 2017
200 pages
Paperback, $17.95; Kindle, $9.99
ISBN-10: 1626568022
ISBN-13: 978-1626568020
About Bill Treasurer:
Bill Treasurer is the Chief Encouragement Officer (CEO) of Giant Leap Consulting Inc. He is the author of international best-seller Courage Goes To Work, which introduced the new management practice of courage building, and Leaders Open Doors, which became the #1 leadership training book on Amazon. All royalties from Leaders Open Doors are donated to programs that support kids with special needs. Bill has designed leadership and succession programs for emerging and experienced leaders for NASA, Saks Fifth Avenue, UBS Bank, Walsh Construction, Spanx, the Pittsburgh Pirates, the U.S., Department of Veterans Affairs, and many others. Treasurer is also a former captain of the U.S. High Diving Team, and performed over 1500 dives from heights that scaled to over 100 feet. For more information, visit billtreasurer.com, giantleapconsulting.com or leadersopendoors.com.