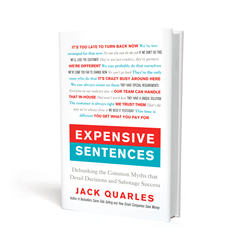 I am convinced that 'expensive sentences' are silently sabotaging companies, non-profits, schools, governments and families.
Toledo, Ohio (PRWEB) January 31, 2017
Talk is never cheap. In fact, whether in the business world or the household, the wrong sentences can be very expensive.
Learning what those "expensive sentences" are and how to free yourself from being entrapped by them is the focus of Jack Quarles newest book, Expensive Sentences: Debunking the Common Myths that Derail Decisions and Sabotage Success.
"Expensive Sentences tell us that we are stuck, that someone is special or that something is scarce. While there is often truth that underlies each of these concepts, they've become costly, clichéd wisdom," Quarles explained.
In Expensive Sentences, Quarles illustrates the prevalence and impact of this flawed reasoning through historic examples, business stories, and personal episodes. Readers will discover how to identify common decision-making pitfalls in real time, and learn to guide teams back to fact-driven thinking and better outcomes.
"I am convinced that 'expensive sentences' are silently sabotaging companies, non-profits, schools, governments and families," Quarles said, "and individuals at all levels can stop them to improve their professional and personal bottomline."
Quarles groups the nine primary Expensive Sentences by the categories stuck, special, and scarce. In the book, he provides real-world examples of how they are used, how you can gauge if they are actually expensive, and how to remove them from the workplace and home.
Stuck Myths
1. It's too late to run back now.
2. We're too swamped to deal with that now.
3. We need it yesterday.
Special Myths
1. We're different.
2. We trust them.
3. That's the way we've always done it.
Scare Myths
1. We can't afford to let him go.
2. The customer is always right.
3. We can probably do that ourselves.
As a bonus, Quarles offers a handful of other potentially costly sentences and how to handle them.
Expensive Sentences has already received valuable praise in early reviews:

"This isn't theory; Quarles unpacks the many ways that team thinking goes wrong, and provides instantly useful insight and tools to make better decisions." – David Ruud – President, DTE Power and Industrial
"A few words. Phrases we use every day. They seem so innocent. And yet left un-examined, they cost us dearly, both personally and professionally. In Expensive Sentences Jack Quarles shows us how we get in our own way when making decisions—and how to get out of it. Save yourself more grief. Get started reading!" – Robert "Jake" Jacobs – Author, Real-time Strategic Change
"The readable, relevant anecdotes and the author's conversational style make it a deceptively quick read, as the book concisely presents so many essential concepts: strategy and operations, inertia and drift, sunk costs and persistence, automation and delegation, team cohesion and culture, and more. Expensive Sentences is perfect for an office book club… highly accessible and actionable. Applies to every function in the organization." – Doug Pontsler – VP Operations & Sustainability, Owens Corning
"This book has changed the way I listen to my clients... and even myself. Expensive Sentences provides pragmatic ways to address the mindset that keeps people stuck in the status quo instead of moving forward." – Sue Funkhouser – Managing Principal, Pinwheel Performance
"An enjoyable and worthwhile book that provides straightforward but profound challenges to common presuppositions and imparts effective strategies for any leader, particularly in business." – Mike Hernandez – Dean, Regent University School of Law
Visit http://www.BuyingExcellence.com for more information about Jack Quarles.
Expensive Sentences: Debunking the Common Myths that Derail Decisions and Sabotage Success
By Jack Quarles
Ideapress Publishing
January 31, 2017
225 pages
Hardcover, $24.95
ISBN-10: 1940858259
ISBN-13: 978-1940858258
About Jack Quarles
Jack Quarles is a speaker, author, and consultant who has saved companies tens of millions of dollars. Jack has co-founded several startups, advises mid-sized companies, serves on the boards of two international non-profits, and has received degrees from Yale University and Northwestern's Kellogg School of Business. Jack's previous books, How Smart Companies Save Money and Same Side Selling (co-authored with Ian Altman), were Amazon #1 Bestsellers. He lives in Toledo, Ohio, with his wife and two daughters.