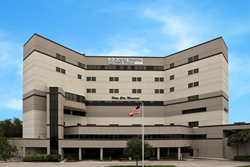 Achieving Stage 7 revalidation reflects our ongoing commitment to technology and to providing our patients with the highest level of care
Tarpon Springs, FL (PRWEB) January 30, 2017
Florida Hospital North Pinellas, an Adventist Health System facility, has received a HIMSS Analytics Stage 7 revalidation. Stage 7 represents the highest level of achievement on the Electronic Medical Records Adoption Model (EMRAM), which is used to track EMR progress at hospitals and health systems.
HIMSS Analytics developed the EMR Adoption Model as a methodology for evaluating the progress and impact of electronic medical record systems for hospitals in the HIMSS Analytics Database. The stages measure a hospital's implementation and utilization of information technology applications.
The final stage, Stage 7, represents an advanced electronic patient record environment. The validation process to confirm a hospital has reached Stage 7 includes a site visit by an executive from HIMSS Analytics and former or current chief information officers to ensure an unbiased evaluation of the Stage 7 environments.
"Adventist Health is quickly progressing towards achieving a near paperless EMR environment in all of their organizations. Achieving Stage 7 on the acute care EMRAM demonstrates their commitment to providing the highest quality healthcare specialty services to their community through the best use of information technology," said Philip Bradley, Regional Director, HIMSS Analytics.
In 2012, Florida Hospital North Pinellas was the second hospital in the state of Florida to achieve Stage 7 validation, implementing an entirely paperless system of medical records. Currently, only 4.5 percent of hospitals nationally and only 10 hospitals in Florida have achieved this level of adoption of electronic medical records.
"Achieving Stage 7 revalidation reflects our ongoing commitment to technology and to providing our patients with the highest level of care. I am incredibly proud of our staff's dedication to this accomplishment," said Tricia Williams, Florida Hospital North Pinellas President and CEO. "We are continuously focused on improving the quality and safety of the care we provide, as also evidenced by our recent recognition as a Top General Hospital by Leapfrog Group and our 7th consecutive 'A' grade in Leapfrog Group's Hospital Safety Score."
Florida Hospital North Pinellas will be recognized at the 2017 HIMSS Conference & Exhibition on Feb. 19-23, 2017, at the Orange County Convention Center in Orlando.
About Florida Hospital North Pinellas
Florida Hospital North Pinellas, located in Tarpon Springs, is a 168-bed, full-service hospital specializing in cardiovascular medicine, emergency medicine, orthopedics, wound healing, sleep medicine and general surgery including minimally invasive and robotic-assisted procedures. Florida Hospital North Pinellas has been nationally recognized by the American Heart Association, the American Stroke Association, The Joint Commission, and The Leapfrog Group, for excellence in providing quality patient care. Florida Hospital North Pinellas serves both the Pinellas and Pasco communities of West Central Florida. Part of the Adventist Health System, Florida Hospital is a leading health network comprised of 26 hospitals throughout the state. For more information, visit http://www.FHNorthPinellas.com.