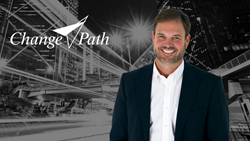 ChangePath fulfills the requirement of a fiduciary, and our hope is by partnering with advisors who need us, we'll save them from the liability and litigation scrutiny they might otherwise face without us as their partner.
Leawood, Kan. (PRWEB) January 31, 2017
ChangePath announces the launch of its corporate Registered Investment Advisor (RIA) and plans to help investment advisor representatives (IARs) prepare for approaching Department of Labor (DOL) deadlines.
As speculation and questions continue to stir with the DOL's fiduciary rule, ChangePath offers a leading investment platform to help advisors create statistically backed client recommendations. ChangePath's technology platform quickly aligns a client's risk tolerances in conjunction with investments and annuities to meet the anticipated fiduciary standards and show evidence of well-defined, consistently applied decision-making processes grounded in fiduciary principles.
With the current environment, it's more important than ever to choose a strong and prepared partner. ChangePath is growing a network of Investment Advisor Representatives (IARs) and Registered Investment Advisors (RIAs), with whom they sub-advise, who leverage ChangePath's cutting-edge technology. ChangePath also offers independent financial advisors comprehensive operational tools, training and marketing support alongside the sophisticated investment management platform to help advisors control the process and efficiently scale their firm.
The fiduciary rule impacts all recommendations and sales involving qualified funds. For many firms, a large portion of their business will be impacted, and without the right partnership, they won't have the technology to automate the additional workload posed by increased fiduciary responsibility. Advisors are migrating to ChangePath to comply with the imposed requirements; which are in the best interest of clients, but also doing so for many other back-office and operational tasks.
About ChangePath
ChangePath is the first-to-market, integrated investment management platform that systematically integrates annuities into client portfolios alongside institutional-caliber investments. ChangePath is a Registered Investment Advisory (RIA) firm providing Investment Advisor Representatives (IARs) access to next-generation technology and services. The technology platform provides a world-class unified management household approach to traditional and non-traditional asset management with statistically backed client recommendations, access to offerings with lower fees, and automation of non-revenue driving activities.
Every day, ChangePath's expansive network of Investment Advisor Representatives and Registered Investment Advisory firms, with whom they sub-advise, leverage this groundbreaking technology to provide wealth managers with tools and solutions that helps increase fiduciary standards, while enabling firm scalability. For additional information, please visit the company's website: changepath.com.
Advisory Services offered through Change Path, LLC an Investment Advisor.
###