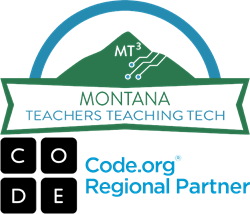 Missoula, MT (PRWEB) January 30, 2017
Today, the America Campaign's™ Big Sky Code Academy™, a Code.org Regional Partner, announced that Lander Bachert is joining the team as the new Montana Teachers Teaching Tech™ Program Director. This key position will serve as the lead for the Big Sky Code Academy's K-12 educator initiative developed in partnership with Code.org.
A native of North Carolina, Ms. Bachert has been teaching in Montana's K-12 educational system since 2008 and is passionate about bringing Computer Science to all students in Montana.
"I am excited to be joining the Big Sky Code Academy's team as the lead for the Montana Teachers Teaching Tech initiative," said Ms. Bachert. "In joining the team, I look forward to working with my favorite group of professionals, our K-12 educators, to educate and inspire them to use technology and teach computer science to benefit Montana's students."
"We are excited to have Lander join our growing team to lead the effort to bring computer science to all of our K-12 educators and their students," said Devin B. Holmes, America Campaign and Big Sky Code Academy Founder. "With teachers signing up for our Montana Teachers Teaching Tech program from communities large and small, like Billings, Ritchey, Malta and more, Lander brings the leadership and K-12 experience to the team to make sure we hit our goal of training 500 teachers by the Summer of 2020."
Big Sky Code Academy is an initiative of the America Campaign, a national non-profit founded in 2015 by serial entrepreneur and philanthropist, Devin B. Holmes, working to improve the lives of all Americans through technology, education and the arts. Along with its Montana Code Girls, Big Sky Code Academy, Code4Philanthropy and Montana Teachers Teaching Tech initiatives, the America Campaign is focused on developing innovative technology focused solutions that create positive impact. Mr. Holmes is also the Founder of the recently launched Montana Innovation Co, a $2.4M seed fund and 6 month start up accelerator for high growth / high impact companies.
Prior to founding the America Campaign, Devin founded StartUpers.com® and Warrior Gateway®, a national non-profit that connected the military community with members of its G.I. Network®, a collaborative of over 220,000 trusted and reliable local service organizations, programs, educators and employers.
More information about the Big Sky Code Academy and its initiatives can be found at http://www.bigskycodeacademy.org