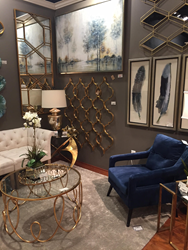 Los Angeles, Ca (PRWEB) February 08, 2017
The Academy of Home Staging & Design's trainer Kara Woods and students attended the RESA convention and the Las Vegas Marketplace last month. For the Academy's students it was a educational and fun experience. Here are just some of the Design trends for 2017:
Texture: From velvet tufted sofas to repurpose woods, texture runs the gamut in design this year. The main focus is on comfort and clean lines. Geometrics have also come into play this year for wallpaper and accessories such as decorative pillows. There is movement without fussiness, there is a lot of mixing of styles with gilding and rustic pieces.
"Gold is every where, gilded art, accessories, lighting, and more. Wherever you look there is gold," says Kara, owner of Stage to Move of New York City.
Gilded to brush gold accent pieces go nicely with the trending colors: bright green and indigo blue or navy. Navy is being used from accent pieces to kitchen cabinets. Some designers are saying Navy is the new black.
"Gilded art seems to complement all the looks, from rustic to modern," says Isabella Masala, student and real estate agent of Citi Habitats of New York City.
The use of geometric design in wallpaper and textiles adds movement and interest to any room. The use of geometric look is popular in the Mid-century and Modern designs. Rustic wood is now being combined with smooth metal which has a fresh new look in accent pieces and accessories. Colors of green, red and variations of blue are all being used as accent colors combined with gold and metal.
Kara and her students made many discoveries at the Marketplace and gleaned information from the RESA (Real Estate Staging Association) annual convention, making this trip well worth the while. Kara Woods is a Trainer with The Academy of Home Staging & Design since 2011.
For more information on Home Staging click here: The Academy of Home staging & design or call 800.574.5576