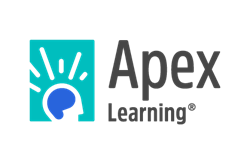 UCOP indicated that the new courses fulfill the UC system's a-g subject requirements, which aim to ensure students enter the UC system college ready.
Seattle, WA (PRWEB) January 31, 2017
Apex Learning today announced that the University of California Office of the President (UCOP) accepted an additional 20 a-g approved Apex Learning high school courses as meeting requirements for University of California (UC) admission. With 61 previously approved courses, school districts now have access to over 80 UC a–g approved Apex Learning courses spanning the subjects of English, math, science, social studies, world languages and college preparatory electives, including 12 Advanced Placement (AP) courses.
UCOP indicated that the new courses fulfill the UC system's a-g subject requirements, which aim to ensure students enter the UC system college ready. According to the California Curriculum Integrity Institute, approved courses must be academically challenging and must require substantial reading, writing, problem solving and analytical thinking, while also developing students' verbal and listening skills.
"We know from our research that Apex Learning courses are the most rigorous online courses available," said Cheryl Vedoe, CEO, Apex Learning. "We are excited about the University of California's approval of additional courses because it allows districts to expand use of digital curriculum to achieve one of their most important goals – sufficiently preparing students for entrance to the competitive UC system."
Apex Learning provides digital curriculum to schools and districts throughout California and across the country. The UC a-g approved Apex Learning courses now include:

Eleven history and social studies courses (a);
Seventeen English language arts classes (b);
Fourteen mathematics courses (c);
Nine laboratory science courses (d);
Eight languages other than English (e);
Twenty-two college preparatory electives (g).
About Apex Learning
Apex Learning puts rigorous, standard-based curriculum within reach for all students—from those struggling to those capable of acceleration—so they are prepared for the next course, the next stage in their education, work and life. More learning happens with Apex Learning because students are actively involved in their learning. A variety of supports and learning activities engage students in developing a deeper understanding of the content. School districts select Apex Learning Comprehensive Courses—in core subjects, world languages, Advanced Placement, CTE, and electives—for original credit and credit recovery and Apex Learning Adaptive Tutorials to provide instructional resources that increase student achievement and high stakes exam scores. During the 2015-2016 school year, there were more than three million enrollments in Apex Learning curriculum. Headquartered in Seattle, Apex Learning is accredited by AdvancEd and its courses are approved for National Collegiate Athletic Association eligibility. For more information, visit http://www.apexlearning.com or call 1.800.453.1454.