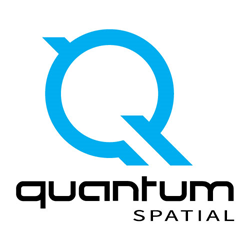 ST. PETERSBURG, Florida (PRWEB) February 01, 2017
Quantum Spatial, Inc., the nation's largest independent geospatial data firm, will showcase its industry-leading use of topographic-bathymetric (topo-bathy) LiDAR and advanced analytics to support natural resource management by public agencies in presentations and exhibits at the Coastal GeoTools conference next week. Quantum Spatial also will share its expertise with the U.S. Department of Commerce's National Oceanic and Atmospheric Administration (NOAA) Coastal Geospatial Services Contract (CGSC) and its work with the U.S. Department of the Interior's Bureau of Ocean Energy Management (BOEM).
The biennial Coastal GeoTools conference, which takes place February 6-9, 2017, in Charleston, S.C., brings together coastal resource management professionals to discuss use of geospatial data, tools and technologies.
In the exhibit hall (booth 17), Quantum Spatial will show how its cutting-edge topo-bathy mapping, which simultaneously maps the land and sea floor, combines with advanced analytics to help agencies define shorelines, assess dune migration, simulate floods and storm surges, and identify year-over-year changes in coastal areas to shape resource planning.
Expert-Led Presentations
Throughout the conference, members of the Quantum Spatial team will present papers and lead special sessions, including:
Performance of the Riegl VQ-880-G LiDAR Sensor in Mapping Coastal Near-Shore Bathymetry – Quantum Spatial's Russ Faux, senior vice president; Nick Kules, technical specialist; and Colin Cooper, senior scientist; will share how topo-bathy LiDAR can be used for mapping near-shore and intertidal zones, providing valuable data for inundation modeling, habitat mapping and other coastal zone management applications. The presentation will outline how Quantum Spatial deployed the Riegl VQ-880-G sensor to map 200 miles of the South Carolina coastline for NOAA's National Geodetic Survey. Speakers will discuss the sensor's performance in capturing detailed elevation data in coastal near-shore and estuarine environments, as well as lessons they learned from deploying this sensor.
Small UAS-based LiDAR Acquisition and Processing Considerations for Natural Resource Management – Led by Quantum Spatial's Faux, Kules and Steve Raber, senior program manager, this presentation will contrast unmanned aerial systems (UAS)-based LiDAR and traditional aerial LiDAR technology for mapping coastal natural resources. Speakers also will review the planned NOAA projects that will leverage UAS for acquisition and processing of LiDAR for three diverse coastal sites in California, New Jersey and Mississippi, all within the National Estuarine Research Reserve System.
A National OCS Sand/Sediment Inventory – BOEM experts will be joined by Alexa Ramirez, a Quantum Spatial marine technical specialist, in this presentation about a tool being developed by BOEM to identify offshore sand resources. The GIS integrates historical and new geospatial data - such as sediment samples, bathymetry, seismic and side-scan sonar surveys - into a uniform data model. They will explain how the GIS tool developed by Quantum Spatial will be able to help the agency identify and manage sand and gravel resources along the outer continental shelf.
Using the NOAA Coastal Geospatial Services Contract – At this special interest meeting, NOAA will explain how participants can begin the contracting process using CGSC, a vehicle that provides a fast, easy way for local, state and federal government entities to acquire geospatial services from the private sector. BOEM will describe the Marine Minerals Program GIS (MMPGIS) and the services provided by Quantum Spatial. Among the services provided through the CGSC are elevation and imagery data acquisition, thematic mapping, photogrammetric and orthophotography production, survey and control services, GIS services and geospatial training.
For more information, or to set up a meeting at the Quantum Spatial booth, email Steve Raber at sraber(at)quantumspatial(dot)com.
About Quantum Spatial, Inc.
Quantum Spatial, Inc., (QSI) the nation's largest independent geospatial data firm, provides geographic insights to the largest government and corporate organizations that need geospatial intelligence to mitigate risk, plan for growth, better manage resources and advance scientific understanding. A pioneer in advanced mapping technology, QSI's end-to-end solutions and services deliver the industry's highest data quality and accuracy, while leveraging the widest array of technologies for analyzing all types of terrains. Customers use the company's acquisition, processing, analytics and visualization solutions in a range of technical and scientific disciplines – from geology and biology, to hydrology, forestry and civil engineering. Utilities, oil and gas producers, engineering and construction firms, as well as the military and major government agencies, are QSI customers. QSI has multiple offices around the country. For more information visit quantumspatial.com, join us on LinkedIn or follow us on Twitter @QuantumSpatial.