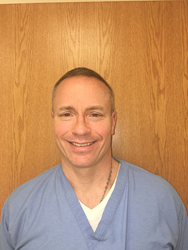 "To understand wound healing, you must understand the role of biofilm in the human body," said Dr. Matthew Regulski of the Wound Care Institute of Ocean County.
Toms River, NJ (PRWEB) February 01, 2017
Matthew Regulski, D.P.M., the Director of the Wound Care Institute of Ocean County, recently conducted a lecture on biofilm and DNA testing at the Rahway Medical Center and Overlook Medical Center's Wound Care Center in Union, NJ. The lecture focused on DNA molecular testing on biofilm, which inhibits wound healing in the diabetic community, as well as all chronic wounds.
"To understand wound healing, you must understand the role of biofilm in the human body," said Regulski. "Biofilm is a community of several different bacteria that come together through a process called quorum sensing. This process enables the biofilm to communicate with each other and spread their virulence through the production of extracellular polymeric substance (EPS)."
Wounds fail to heal when biofilm is present, so it must first be identified which type of bacteria is in the biofilm in order to destroy it and facilitate wound healing, Regulski notes. "By reducing the biofilm, we reduce the inflammation that has a deleterious effect upon many tissues and cells," he added.
To do this, Regulski utilizes a process called DNA molecular testing. "The DNA sequencing can identify over 25,000 different bacteria and fungi that can inhabit a chronic wound," he said. "There are over 10 trillion bacteria on our skin. There will always be some kind of bacterial contamination in any open wound. Through DNA testing, we can make a topical antibiotic cream that is thousands of times stronger than anything you can ever take by mouth. It has to be that strong in order to penetrate through the biofilm, which oral antibiotics are not strong enough to do, and, in some cases, intravenous antibiotics are not strong enough either. This is because the concentration cannot be raised high enough without harming the patient's kidneys and organs."
"DNA contains the instructions each cell in an organism on Earth needs to live," according to a NASA.gov press release (https://www.nasa.gov/mission_pages/station/research/news/dna_sequencing). "The Biomolecule Sequencer investigation moved us closer to this ability to sequence DNA in space by demonstrating that DNA sequencing is possible in an orbiting spacecraft. With a way to sequence DNA in space, astronauts could diagnose an illness, or identify microbes growing in the International Space Station and determining whether or not they represent a health threat."
This space-based DNA sequencer could help protect astronaut health during missions, and future explorers could also use the technology to identify DNA-based life forms beyond Earth, according to Regulski.
Today, DNA testing is very helpful in the treatment of chronic infections. The National Institutes of Health (NIH) says that 60-70 percent of all infections are due to biofilm. Any chronic infection is due to biofilm, including chronic ear infections, chronic prostate infections, sinusitis, recurrent bladder infections, cystic fibrosis, bronchitis, as well as orthopedic implant infections (knee and hip replacements), according to Regulski.
"We used this technology clinically in orthopedics, otolaryngology, urology and chronic wound care therapy in the diabetic community and beyond to more accurately identify and more specifically target antibiotic therapy," Regulski added. "It truly is revolutionary and will significantly aid in the treatment and resolution of all chronic infectious processes."
For more information about the Wound Care Institute of Ocean County or its several locations or services, visit http://www.woundcareinstituteofoceancounty.com or call 732-736-5509.
About the Wound Care Institute of Ocean County
The Wound Care Institute of Ocean County is the leader in wound care management, and is dedicated to the diagnosis and successful treatment of chronic and debilitating wounds. The Wound Care Institute follows the highest levels of evidence-based medicine and offers various treatment algorithms using the most advanced cellular therapies, as well as vascular services and surgical reconstruction. The Wound Care Institute of Ocean County is also involved in multiple clinical trials that have tremendous impact on the way wound healing is performed. To learn more, visit woundcareinstituteofoceancounty.com.