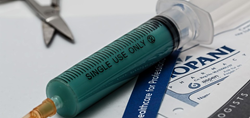 This has the potential to allow your own body to mount an attack against your own tumor to kill it.
Boston, MA (PRWEB) January 31, 2017
One Million Solutions in Health works with the NIH through a one-of-a-kind partnership to bring science forward. Many technologies have been available for licensing or collaboration agreements. However, to accelerate a cure for cancer, this information is being shared via a webinar regarding a "Cancer Vaccine with a Unique Tumor-Associated Antigen". This science has been patented after being created by Dr. Bira Arya, Senior Investigator, National Institute on Aging – IRP.
This presentation features an exceptional discovery in the search for unique cancer antigens. It is a cancer vaccine with unique tumor-associated antigens. NIH scientists have isolated a tumor-associated antigen (TAA) that is widely expressed in various human tumors, so this sets the stage for a cancer vaccine solution.
A new patent was recently issued on this technology. And, importantly, this TAA contains a number of immune dominant regions/epitopes that are readily recognized by human T cells. It has been shown that humans can efficiently elicit specific helper and cytolytic T cells capable of killing human tumors.
> This antigen is over-expressed in metastatic cancers
> Human T cells elicit responses to this antigen and kill the tumor's expression of this antigen
> This has the potential to allow your own body to mount an attack against your own tumor to kill it
The focus is to understand how immune cells control diseases like cancer, and how we can use this knowledge to develop potent therapeutic formulations to combat cancer.
Cancer strategies often don't cure patients, and patients often relapse. To illicit long-lasting, disease-free survival, current thinking suggests the need to induce immune responses against cancer.
To do this, a number of strategies can be utilized under the auspices of cancer immunotherapy. In considering a cancer vaccine, in order to be effective, it needs to have a unique target, against which immune cells will be responding.
Review the webinar here: "Cancer Vaccine with a Unique Tumor-Associated Antigen".
ABOUT ONE MILLION SOLUTIONS IN HEALTH:
As a not-for-profit, the goal of One Million Solutions in Health™ is to shape health care by sharing solutions and, importantly, to accelerate the discovery, development and delivery ... of innovative cures, treatments and preventative measures for patients around the world. By facilitating efforts to ensure organizations can Connect, Learn + Share, Innovate and Collaborate, our vision is to improve health care delivery, accelerate life sciences research and share patient and consumer-focused ideas and solutions.
By engaging scientists, entrepreneurs, investors, innovators, industry experts, health care professionals, and patients across various disciplines, and from around the world, we can utilize the power of the internet to disrupt things in a positive and transformative way to accelerate the movement of new solutions and scientific discoveries from the scientist to the patient.
The Technology Evaluation Consortium (TEC) brings together life sciences and/or health care companies and technology providers, and other relevant partners (e.g., government and Universities) to evaluate and validate technologies or services in a collaborative environment. The model empowers technology providers and industry end users to collectively assess a number of technologies in a cost-effective manner, producing a depth and breadth of results that no company can achieve alone.
We are on our way towards accelerating high-potential innovations, catalyzing investment and increasing awareness of, and support for, important ideas to improve health and save lives. We are thrilled to have you be a part of this transformative journey!
IF YOU HAVE A TECHNOLOGY, SCIENTIFIC DISCOVERY OR MEDICAL SOLUTION YOU WOULD LIKE US TO HELP SHARE WITH THE WORLD, CONTACT US.
For more information: http://www.onemillionsolutionsinhealth.org
CONTACT:
One Million Solutions in Health™
Dawn Van Dam
Executive Director & CEO
Email: dawn.vandam(at)onemillionsolutionsinhealth(dot)org
Phone: 416-402-8274
Twitter: @DawnVanDam