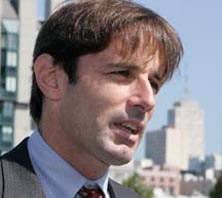 The true objective in selecting new board members and creating partnerships is to be sure to have voices with multiple perspectives on the corporate governance issue.
San Francisco, CA (PRWEB) February 01, 2017
The Corporate Governance Initiative (CGI), an organization committed to assisting organizations to adhere to a system of guidelines, practices, and procedures by which a company is directed, has announced the selection of Paul Pelosi Jr. as its new executive director. The selection was made after a national search and selection process, during which Paul rose to the forefront with his ringing endorsement of CGI's mission to shed light on improper corporate governance worldwide while questioning the role of Independent Directors in Tata Sons, one of the largest companies in India with brands the likes of Jaguar, Landrover and Starbucks.
Mr. Pelosi, son of U.S. House Minority Leader Nancy Pelosi, was a founding member of Cisco Systems Connected Urban Development team under the direction of Cisco CEO John Chambers and also currently advises a number of companies including the NASA Ames Research Center. Mr. Pelosi graduated Cum Laude from Georgetown University with a Bachelor of Arts and holds an MBA with an emphasis in International Business. Mr. Pelosi has been a member of the California State Bar since 1996.
"We are tremendously pleased to announce this appointment," reported Aric Reutlinger, BSEAE, MBA, and Media Relations Director for CGI. "Paul will bring leadership and creativity to CGI's programs and his strong sense of commitment to our goals and overall mission. He has served organizations at the executive and leadership levels, and has a wide scope of perspective and understanding." Mr. Pelosi has extensive experience advising Fortune 500 companies and has been a key speaker at conferences across the globe for environmental sustainability, public policy as well as corporate ethics and best corporate practices.
Mr. Pelosi commented, "I'm looking forward to working with the CGI staff as we look to strengthen and create new alliances with corporate governance projects and businesses around the world." When asked how he arrived at the decision to become the new Executive Director for the CGI, Paul said "A few months ago, I read an article in the Wall Street Journal where David Larcker, a professor at the Stanford Graduate School of Business, postured a remarkably enlightened question in an interview with Risk & Compliance Journal: "Are you concerned about the shareholder base and if you are what actions do you take to actually shift it?" That question made me think even further about corporations here in the US and abroad in regards to their true concern, if any, for all the stakeholders in their company. So when the opportunity to give voice to this issue presented itself, I felt it was my obligation to step up and assist in any way possible."
When asked how he will address the difficult task of helping companies create policies to find balance between the interests of a company's many stakeholders as well as coalition build for CGI, Paul said "I recently met an amazing Communication Specialist, Michael Bernoff, who put me through his course called "Call 2 Action" which helps you learn how to do more in 5 days than you did in 5 months, so I think I'm up to the challenge, plus I have an amazing team at CGI that will help make the mission a success."
Mr. Pelosi went on to say, "The true objective in selecting new board members and creating partnerships is to be sure to have voices with multiple perspectives on the corporate governance issue. It is only then that we have spirited discussions that will eventually create cohesive solutions that will truly benefit a company and all of its stakeholders such as shareholders, management, patrons, providers, investors, government and the public.
The Corporate Governance Initiative promotes self-governing corporate strategies that are transparent with all stakeholders, maximize mutually beneficial transactions, and establish long-term relationships, and respect laws and local communities.