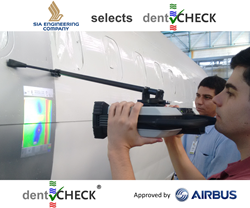 ...built from-the-ground-up to empower aviation technicians of all skill levels...
Englewood, Colorado & Konstanz, Germany (PRWEB) February 01, 2017
SIA Engineering Company (SIAEC) has joined the growing ranks of global airlines, cargo carriers and MROs adopting dentCHECK from 8tree. After a rigorous 18-month evaluation and competitive benchmarking exercise, SIAEC selected dentCHECK as the dent-mapping tool-of-choice for their maintenance operations.
SIAEC, a part of the SIAEC Group, provides aircraft maintenance, repair and overhaul (MRO) services to several dozen international carriers, from its base in Singapore.
"We are delighted, yet not surprised, at the outcome of SIAEC's competitive benchmarking process", said Arun Chhabra, CEO, 8tree. "It mirrors the experience of other airlines/MROs whose adoption of dentCHECK was based on two overwhelming factors. First, dentCHECK was built from-the-ground-up to empower aviation technicians of every skill-level to efficiently, accurately and consistently map dents, and get instant go/no-go answers; not just data. Second, dentCHECK is the world's only handheld portable 3D scanner to be formally published in Airbus' Tool Equipment Manuals (TEMs) for the express purpose of dent-mapping. We warmly welcome SIAEC, and look forward to having them experience 8tree's exceptional customer service."
Airbus has already approved dentCHECK for use on metallic aero-structures, with plans to certify it on additional surfaces. Additionally, other aircraft OEMs are expected to issue similar guidance very soon. This will enable more airlines to implement dentCHECK to boost their maintenance efficiency.
In addition to the scope of Airbus' TEM publication, dentCHECK at its core, is a 3D dent-mapping and blend-out tool, that delivers 'go/no-go' SRM-compliant answers in seconds -- all with the click of a single button. In documented customer case-studies, dentCHECK drastically reduces inspection and reporting times by 90%.
dentCHECK empowers aircraft maintenance operations with first-of-its-kind objective and consistent dent-inspection results. This reduces aircraft Turn-around-Time (TaT), which in turn reduces lost revenues and improves operational efficiency for airlines. dentCHECK enhances safety through an improved understanding of airframe reliability.
About 8tree
8tree makes 3D optical surface inspection tools that solve chronic problems for multiple industries. 8tree's products empower every operator – from mechanics on the floor, to engineers in the lab – with precision measurement, portability and performance. With its patented user-centric product design, instant 'go/no-go' answers and zero-learning curve, 8tree is committed to making precision 3D scanning more broadly accessible – technically and commercially.
For more information, visit 8tree at Booth 226 at MRO Middle East Feb 8-9 in Dubai, and always at http://www.8-tree.com.