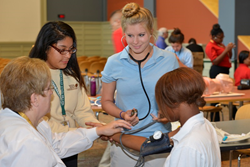 "We not only want them to succeed here, but we care about their success after they graduate." -Dave Curry, MHS Career and Technical Education
HERSHEY, Pa. (PRWEB) February 01, 2017
During National Career and Technical Education (CTE) Month in February, Milton Hershey School students are preparing for college and the world of work with 70 state and nationally recognized certification opportunities. For seven consecutive years, every MHS senior has graduated with at least one industry-recognized certification, and for the Class of 2017, all seniors are on track to receive two certifications.
"College and career readiness is a strong area of focus at MHS," said Dave Curry, MHS Career and Technical Education. "We not only want them to succeed here, but we care about their success after they graduate."
To equip students with technical skills that apply to the future workplace, the school simulates a real work environment through dynamic CTE classrooms that encourage hands-on learning—including an auto shop, TV studio, culinary arts kitchen, graphic arts print shop, and carpentry work sites.
The technical skills they gain through this level of hands-on instruction and the knowledge base they form through industry-recognized certifications allow students to enter college or the workforce with a head start. Students also can expand on their skills by completing internships and co-op programs through partnerships with local businesses.
"For MHS students, there's more to it than just the CTE programming. Some of it is learning work ethic and learning to be a professional," explained Curry. "Internships and co-op programs help some students solidify what they want to do, but some are also figuring out what they don't want to do—and that's beneficial, too."
With tailor-made instruction and opportunities to build professional skill sets, the Class of 2017 is exploring their interests and committing to their passions in order to lead fulfilling and productive lives.
"Our CTE Program is meant to give students the skills they need in a particular area, but we're also giving them skills that are going to transfer to whatever they want to do," Curry added.
Milton Hershey School's renowned CTE program was designed to provide career-based learning opportunities alongside top-notch academic programming. Students choose from 11 different career pathways and receive specialized academic instruction, hands-on learning opportunities, and professional workplace experience.
More information about the CTE certification opportunities available at Milton Hershey School can be found at mhskids.org.
# # #
ABOUT MILTON HERSHEY SCHOOL
Milton Hershey School® is one of the world's best private schools, offering a top-notch education and positive home life to children in pre-kindergarten through 12th grade from families of lower income at no charge.