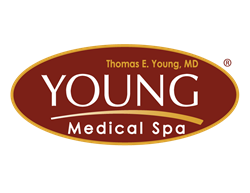 Montgomery County and the Lehigh Valley, PA (PRWEB) February 02, 2017
Dr. Thomas E. Young, Owner and Medical Director of Young Medical Spa® is excited to announce a new service: SculpSure® for reducing excess fat on areas of the body that are resistant to diet and exercise. An FDA-cleared body contouring treatment, SculpSure can reduce unwanted fat on the abdomen, love handles, and flanks, using state-of-the-art technology to provide patients with a slimmer, trimmer figure.
Stubborn fat can negatively affect body contours for both women and men. This non-invasive, no-downtime treatment is capable of simultaneously treating multiple areas for an expedited treatment that takes just 25 minutes. For patients who maintain a healthy lifestyle, SculpSure results can be permanent.
SculpSure uses targeted light to heat and disrupt fat cells without harming surrounding tissues. These fat cells are then absorbed and ultimately flushed naturally from the body. Initial results can become apparent as early as six weeks following treatments, and patients typically see final results within months. Patients can begin to see results after one SculpSure treatment, though additional treatments may be necessary to achieve desired results.
Please visit YoungMedicalSpa.com to learn more about SculpSure treatments at Young Medical Spa. Center Valley area patients can also call 610-816-0077; Lansdale area residents can learn more about this new service by calling 215-660-4121.
About Young Medical Spa in Center Valley and Lansdale Pennsylvania
Dr. Thomas E. Young founded Young Medical Spa with the mission to provide the highest quality aesthetic treatments and services within the comfort of a relaxing, spa-like environment. At Young Medical Spa in the Lehigh Valley and Montgomery County regions, all patients are treated under the supervision of medical aesthetic experts to ensure that results match the team's passion for aesthetic medicine.
Dr. Young is a leader within the medical aesthetic industry, and shares his expertise by training other physicians with his advanced techniques and wealth of experience. At Young Medical Spa, Dr. Young works diligently to ensure that each patient is able to achieve their desired results within a state-of-the-art location and in the company of a friendly and welcoming staff.
Young Medical Spa has two locations serving the Lehigh Valley and greater Philadelphia areas. Their Center Valley medical spa is convenient to Allentown, Bethlehem, and Easton. The Lansdale medical spa is located in Montgomery County outside of Philadelphia, serving King of Prussia and Lower Bucks County. Every patient is given the time and attention necessary to develop a unique treatment plan and foster a valuable relationship with the staff. Young Medical Spa is dedicated to patient care and comfort, maximizing results while ensuring the utmost safety.
Young Medical Spa is conveniently located at 4025 West Hopewell Road in Center Valley, PA, and at 635 North Broad Street, Lansdale, PA.
About Dr. Thomas E. Young
Thomas E. Young, M.D. is the owner and medical director of Young Medical Spa® located in the Lehigh Valley and Lansdale, PA. Double board-certified by the American Board of Internal Medicine, he is a native of the Lehigh Valley, and has been practicing medicine in the Lehigh Valley and surrounding areas since completing his residency at the Harrisburg Hospital.
He is an experienced cosmetic injector and specializes in multiple awake tumescent procedures and techniques, and began performing SmartLipo™ Laser Body Sculpting™ soon after approval by the FDA. Dr. Young has performed over 6,000 procedures to date, identifying him as the most experienced awake tumescent liposuction physician in the region.
Dr. Young is consistently the first physician to introduce many advanced aesthetic procedures and technologies to the region including awake tumescent laser liposuction, natural breast augmentation, Brazilian butt lift, Cellulaze™ cellulite reduction, CoolSculpting®, EndyMed Skin Tightening, thread lifts, and stem cell procedures. He also trains other physicians across the country in awake tumescent liposuction & liposculpture procedures.
Dr. Young received an International Award in the category of "Best Overall Body Make-Over (a combination of procedures)" at the inaugural THE Aesthetic Awards™ at THE Aesthetic Show™ in Las Vegas, NV. He also has been voted "Leading Aesthetic Physician – Botox, Laser & Cosmetic Enhancements" in the 2011, 2012, 2013, 2014, 2015 & 2016 "Who's Who in Business" for the Lehigh Valley, and was twice voted "Best Aesthetic Physician" by Lehigh Valley Magazine's "Best of the Valley" Readers Poll. Additionally, Young Medical Spa was voted "Best Medical Spa" in The Morning Call's Readers' Choice Awards in 2011, 2012, 2013, 2014 and 2015.