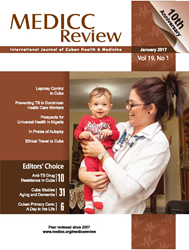 Oakland, CA (PRWEB) February 02, 2017
An article published in the latest issue of MEDICC Review shares lessons learned from the Cuban arm of an international cohort study of dementia in 11 countries in Asia, Africa and Latin America. The Dementia Research Group's 10/66 study uses standardized methods to estimate incidence of dementia and associated conditions, such as frailty, as well as the risk of developing dementia for major risk factors. Cuba has the oldest population in the Americas, and with dementia incidence at 21.2 per 1000 population aged 65 years and older, dementia-related care needs and caregiver burden are expected to grow.
More than any other physical or mental illness, dementia has two major social consequences: the need for care, and the psychological strain and economic impact on family members obligated to stop working when stepping into the caregiver role. To effectively address the primary health care needs of older adults who are at risk, the authors recommend evaluating the effectiveness of a horizontal, community intervention strategy delivered by nurses and nonprofessional health care workers, under the supervision of primary care providers.
In addition to its focus on dementia in Cuba, the latest issue of MEDICC Review, now available online, includes a paper revealing low frequency of multidrug-resistant M. tuberculosis in Cuba, as well as an article providing insight into the daily lives of family doctors and nurses, whose offices dot the Cuban urban and rural landscapes, forming the backbone of Cuba's primary health care network.
Other articles featured in this issue, which marks MEDICC Review's 10th year as a peer-reviewed journal, include:

About MEDICC Review
MEDICC Review is the first peer-reviewed journal in English dedicated to publishing original manuscripts by Cuban health and related professionals on topics of medical research, population health, and policies and practice of health in Cuba. The journal also publishes international authors on subjects related to health equity and vulnerable populations. Over 40,000 articles are accessed monthly by readers in 140+ countries.
Published by Medical Education Cooperation with Cuba (MEDICC), Oakland, California, USA, MEDICC Review articles are available open access, free online and available through MEDLINE/PubMed and other indexing services: http://www.medicc.org/mediccreview
About MEDICC
Founded in 1997, MEDICC is a US non-profit organization working to promote US-Cuba health collaboration and highlight Cuban public health contributions to global health equity and universal health. MEDICC facilitates mutual learning opportunities in several ways: its documentary film ¡Salud!; the open-access, MEDLINE-indexed English journal, MEDICC Review; insightful trips to Cuba for US health policymakers, educators and practitioners; a national network of US communities whose leaders have been inspired to innovate for better health, thanks to their MEDICC-organized experiences in Cuba; and by serving as an institutional bridge-builder between US, Cuban and global health institutions and organizations. MEDICC also assists US graduates of Havana's Latin American Medical School to return home to practice in provider-shortage areas, and supports US policies that facilitate greater health cooperation with Cuba for the benefit of people in both countries. To achieve our vision of health for all, MEDICC works with a global alliance of people who care about how others in the world live, learn, work, eat, play, and receive health care.