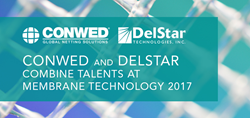 Minneapolis, Minnesota (PRWEB) February 02, 2017
Conwed and DelStar Technologies, now both part of the Advanced Materials and Structures (AMS) division of Schweitzer-Mauduit International, Inc. (NYSE: SWM), will exhibit their reverse osmosis (RO) feed spacers portfolio at the 2017 Membrane Technology Conference & Exposition, in Long Beach, CA (Booths #525 & #420 - February 13-17, 2017).
Organized by the American Water Works Association (AWWA) and the American Membrane Technology Association (AMTA) this event will showcase how membrane technology can enhance water reliability and water quality while revealing new directions in water treatment technologies and wastewater membrane bioreactor applications. With over 1,200 attendees, it is the premier event for membrane technology and its applications in water, wastewater and industrial treatments in North America.
Acquired by SWM in 2013, DelStar Technologies has a successful history as a market leader in feed spacers for RO wound elements. The recent acquisition of Conwed, the next-generation feed spacer developer in the world, by SWM, combines the talents of both companies to offer the undisputable, leading portfolio in feed spacers worldwide. "DelStar and Conwed have been competitors for decades, always aiming at developing the most advanced filtration products for an increasingly demanding industry. We are thrilled to join our talents and technologies to lead the feed spacer development across the globe", said Ivan Soltero, senior strategic marketing manager at Conwed.
Frequently known as spacer, scrim, mesh, net, or netting, feed spacers act as one of the layers of wound materials in RO filters and provide vital separation between the membranes to achieve superior filter performance. "As part of SWM's enterprise, we will continue to address the top three challenges in every RO system: membrane damage, pressure drop and biofouling. Our combined expertise creates a distinctive hub of R&D, engineering and commercialization capabilities that truly make us the leading feed spacer developer in the world", said Soltero.
Reverse osmosis is a critical part of the world's water supply. The International Water Management Institute, a non-profit scientific research organization that focuses on sustainable water use in developing countries, estimates that by 2025 nearly 1 billion people will lack access to fresh, drinkable water. It's clear that Reverse Osmosis (RO) will play a major role in alleviating water scarcity, but there will be a strong push for greater efficiency and cutting energy costs while boosting product water output.
"Water scarcity is a global challenge driving technology companies to improve existing and develop new materials and systems. We believe the next wave of innovation will come from the feed spacer", said Soltero.
To know more about Conwed in reverse osmosis applications, visit
http://www.conwedplastics.com/ro
About CONWED
Conwed is the leading plastic netting manufacturer in the world. Conwed manufactures extruded, oriented, knitted and multilayer netting with unique customization capabilities. Headquartered in Minneapolis, Minnesota, Conwed has five manufacturing locations on two continents and a global distribution network.
http://www.conwedplastics.com
About DelStar Technologies
DelStar Technologies is the world's leading manufacturer of thermoplastic nets, nonwovens, laminates and extruded components. Founded in 1946, DelStar has manufacturing, sales and distribution centers in the United States, Europe and the Pacific Rim.
http://www.delstarinc.com
About SWM
Schweitzer-Mauduit International, Inc. – SWM, is a leading global provider of highly engineered solutions and advanced materials for a variety of industries. SWM and its subsidiaries conduct business in over 90 countries and employ approximately 3,100 people worldwide, with operations in the United States, United Kingdom, Canada, France, Belgium, Luxembourg, Russia, Brazil, Poland and China, including two joint ventures.
http://www.swmintl.com