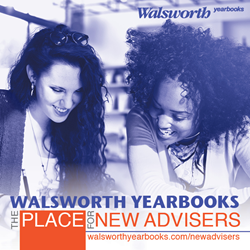 Overland Park, Kansas (PRWEB) February 02, 2017
Walsworth Yearbooks has announced the release of a series of new resources focused on helping new yearbook advisers become more successful managing their yearbook program. These resources include free eBooks, webinars and emails. The content in these resources offers relevant and timely information to assist new yearbook advisers with tasks such as staff management, design, writing and more.
The free eBook, Our Best Advice: Lessons for New Advisers from the Yearbook Experts, is the first resource to be released and contains real-world and practical tips. Created for new advisers by 18 yearbook experts, Our Best Advice covers everything from developing a core philosophy, to grading, to setting editorial policies and much more, and it does so in an easy-to-read format. The eBook is also applicable to those who have been advising for several years.
Two additional resources will be released later in February, which include the eBook, 12 Essential Tips for the New Yearbook Adviser and a monthly webinar series. The first webinar is scheduled for Feb. 21 and will be hosted by Walsworth Journalism Specialist and Key Accounts Manager, Mike Taylor, CJE. In the webinar, Mirror, mirror on the wall: How to recruit the best yearbook staff of all, Taylor will help new advisers plan for the 2018 school year by discussing recruiting and how to kick off the process of finding a great yearbook staff.
"Walsworth Yearbooks has always offered a high level of support for advisers and their yearbook staffs. Now Walsworth is becoming known as the best place for new advisers," said Don Walsworth, President. "Our mission is to provide the support, guidance and encouragement needed so new advisers complete their first year successfully and then go on to fall in love with yearbooks and the yearbook tradition. I believe these new resources, along with our exclusive Adviser Mentor Program, will make a new yearbook adviser's job easier and more enjoyable."
An eBook to help school administrators select teachers to be yearbook advisers, along with a new yearbook adviser-focused email series, Timely Tips, will be offered beginning in March.
For more information about Walsworth Yearbooks' collection of new adviser resources, contact Alex Blackwell, vice president of marketing and communications, at 800-369-2965, ext. 5769; your local Walsworth Yearbooks sales representative or call 800-972-4968.
About Walsworth
Walsworth is among the 29 largest printing companies in the U.S. The company is among the top four yearbook printers and is the only American family-owned publisher of yearbooks. Started in 1937 by Don Walsworth, current leadership is under the second and third generations: Don O. Walsworth, CEO, and his son, Don Walsworth, president. The company operates from administrative offices and printing and binding facilities in Marceline, Mo., a prepress facility in Brookfield, Mo., a sales and marketing office in Overland Park, Kan., and a printing facility in Saint Joseph, Mich. Additionally, Walsworth owns the Donning Company Publishers in Virginia Beach, Va., a specialty book publisher, and The Ovid Bell Press in Fulton, Mo., a printer of journals and magazines.