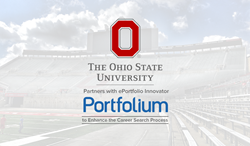 Portfolium brings a good concept to the table that fills a core need for us-Not only is Portfolium's ePortfolio platform a multimedia communication tool, but it also has the built-in flexibility required to meet the various needs of our student population
San Diego, CA (PRWEB) February 02, 2017
Portfolium, an ePortfolio platform that enables students to capture, curate, and convert skills into job offers, announced today that they are partnering with The Ohio State University's College of Food, Agricultural, and Environmental Sciences (CFAES) to bring Portfolium's cloud-based portfolio solution to CFAES's nearly 3,700 students. The partnership between Portfolium and CFAES will help increase awareness for students and other stakeholders about the importance of the job search process and the steps students need to take to launch successful careers.
The college uses its expertise in agricultural research and teaching to help students gain practical knowledge that will help elevate them to the meaningful careers that they seek. The collaborative endeavor with Portfolium will integrate with the college's learning management system, Canvas, and will help the college deepen students' personal branding skills, an important part of launching an effective job search.
"Portfolium brings a good concept to the table that fills a core need for us. Not only is Portfolium's ePortfolio platform a multimedia communication tool, but it also has the built-in flexibility required to meet the various needs of our student population." said Dr. Tim Rhodus, Professor and CFAES Portfolium Project Leader. "We're excited to be adopting and implementing Portfolium to help our students engage in the best practices of a career search."
"By choosing Portfolium as their ePortfolio platform, it's clear that the College of Food, Agricultural, and Environmental Sciences is on the cutting edge of connecting students with the next step in their career," said Troy Markowitz, VP Partnerships at Portfolium. "We're well positioned to help their students leverage this powerful technology to maximize the success in obtaining the positions they seek in today's ever-shifting job market."
Portfolium will aid CFAES students by going beyond the traditional resume to build multi-dimensional ePortfolios, making them more attractive to potential employers in the agricultural industry, and connecting them to employers searching for students with their specific skills. As a data-driven college, CFAES is also looking forward to implementing information acquired using Portfolium to better understand and analyze their students' career search process and success.
ABOUT PORTFOLIUM: Portfolium partners with colleges & universities to help students transform learning into opportunity. Our ePortfolio network helps millions of students and alumni from over 150 partner institutions manage their skills and launch their careers. Portfolium's cloud-based platform empowers students with lifelong opportunities to capture, curate, and convert skills into job offers, while giving learning institutions and employers the tools they need to assess competencies and recruit talent.
Media Contact:
Sarah Pease or Edgar Rodriguez
Portfolium
917.974.4729 or 951-256-7301
marketing(at)portfolium(dot)com