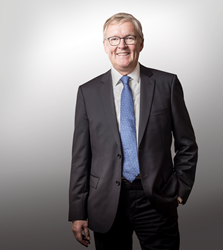 (PRWEB) February 03, 2017
Thomas Winkelmann new CEO of the airberlin group
On his first day in office, Thomas Winkelmann (57) today assumes the role of Chief Executive Officer (CEO) and therefore full responsibility for all activities of the airberlin group. He was appointed by the Board of Directors on 18 December 2016.
Thomas Winkelmann on his role as CEO of the airberlin group: "I've accepted the job with the aim of successfully completing the repositioning of the company. I'm supported by around 7,500 airberlin staff, who work on board our aircraft, at the airports and in our administration department to ensure a sustainable and profitable future for airberlin", said Thomas Winkelmann.
Thomas Winkelmann began his career in the Lufthansa Group in 1998, where he was initially responsible for its sales organisation in South America and the Caribbean, before assuming the role of Vice President of the sales and service organisation for North and South America.
From September 2006 until October 2015, Thomas Winkelmann was CEO of Lufthansa's low-cost subsidiary, Germanwings. Following the announcement of the integration of Germanwings into Eurowings, Thomas Winkelmann was appointed Chief Executive Officer of Lufthansa's Munich hub.
About airberlin
As one of Europe's largest network airlines, airberlin focuses on extremely frequent domestic flights and on services between a number of major European cities and its Berlin-Tegel and Dusseldorf hubs, from where the airline also operates long-haul flights to the USA, the Caribbean and the Middle East. airberlin carried more than 30.2 million passengers in 2015 and its fleet is among the most modern and eco-efficient in Europe. airberlin is a member of the oneworld® airline alliance, co-founder of Etihad Airways Partners and a strategic partner of Etihad Airways, which has a 29.21 per cent share in airberlin. topbonus, the frequent flyer programme of airberlin, has more than 4 million members.
Press contact:
Melanie Schyja
Press Officer / Team Lead Social Media
Tel: +49 30 3434 1500
Fax: +49 30 3434 1509
E-mail: abpresse@airberlin.com
http://www.airberlin.com
http://www.facebook.com/airberlin