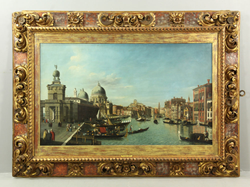 Palm Beach, Florida (PRWEB) February 05, 2017
Kaminski Auctions announces its' first antique auction to be held in West Palm Beach, Florida. The auction features the outstanding collection of the Montelatici family of New York, Florence, Italy and Miami Beach, Florida and other estates. The auction will coincide with the Palm Beach Jewelry, Art and Antique Show and will take place Sunday, February 19th starting at 11:00 am at the Marriott West Palm Beach, 1001 Okeechobee Boulevard, West Palm Beach, Florida.
The Montelatici family's collection includes many pieces of 17th century Italian art from important Neapolitan portraits to a magnificent oil on canvas by the Florentine artist William James (1761-1771) of the Grand Canal Venice with Saint Mark's Square in view.
Important art in the auction includes a floral still life, oil on board, signed and dated 44 by the Brazilian artist Aldo Bonadei (Brazilian, 1906-1974). It bears an inscription verso, and the gallery stamp, Giovanni Cagnoni Pittore Studio, Via Piemonte, Italy.
French artists represented in the sale include a Paris street scene by Edouard Cortes, a Parisian park scene by Jean Dufy, a bridge and river scene by Anders Osterlind, Andre Hambourd, J. Gaston and a beautiful still life of roses titled "Roses Au Panier" by Jean Chaleye estimated at $4,000-$6,000.
Marine art includes a seascape of a clipper ship attributed to William York and valued at $19,000-$20,00 and a signed Reuben Chappell (English, 1870–1940) ships painting of the "Hermaphrodite Brig Lizzie Lee of Goole", an oil on canvas. Reuben Chappell was known as the pierhead painter of Goole, his works are on exhibition in the National Maritime Museum and the Goole Museum in Goole, England.
Other noteworthy art in the sale includes a pen and ink by Rembrandt titled "The Bathers" and a Picasso lithograph titled "The Dwarf Dancer."
Fine jewelry in the sale includes a Buccellati18 carat gold tassel necklace with 89 grams of gold valued at $3,000-$5,000 and a spectacular platinum Paraiba tourmaline and diamond ring with an 8.54 carat tourmaline valued at $10,00-$15,000.
Chinese and Japanese decorative arts are well represented in the sale as well. Standout lots include a pair of Chinese Imperial torchieres, five 19th century paintings of Geishas and a Japanese Meiji period bronze urn valued at $6,000-$9,000.
The Montelatici family collection includes many fine Italian pieces of decorative art including an 18th/19th century Italian bronze Laocoon statue valued at $2,000-$4,000. A 17th/18th century Italian Florentine Vargueno cabinet sets the tone for an array of exquisite Italian furniture on offer. With carved gilt wood embellishments and Claude Lorrain etchings on the drawers the Vargueno cabinet is estimated to bring $15,000-$30,000. There is also a particularly beautiful 17th/18th century Italian Venetian polychrome painted tall cabinet with a broken arch pediment and doors decorated with Roman ruins valued at upwards of $70,000.
The West Palm Beach Marriott is located conveniently across from the West Palm Beach Convention Center where the Antiques Show is being held. The auction preview will be open to the public Friday and Saturday February 17 & 18 from 10:00 am- 5:00 pm at The Marriott and starting at 8:00 am on the day of the auction. Preview is open during the live auction as well.
Prior to the sale preview is by appointment at the Kaminski Auctions West Palm Beach location on Antiques Row at 3608 Dixie Highway West Palm Beach, Florida.
For more information and to sign up to bid on KaminskiLIVE go to http://www.kaminskiauctions.com