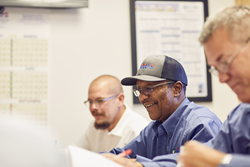 "Here at CAPS we are very excited about 2017 and our move into the next phase of ISO implementation," explained CEO Taylor Norris.
Houston, TX. (PRWEB) February 04, 2017
The Texas A&M Engineering Extension Services (TEEX/TMAC) is tasked by the U.S. Department of Commerce to increase the global competitiveness of the Texas economy by working with the extended manufacturing enterprise. TEEX/TMAC is able to accomplish this by helping companies become more competitive through a wide array of services that improve efficiency, quality, and productivity. In the spirit of increasing global competitiveness and providing quality products, TEEX/TMAC is assisting CAPS in the implementation and certification of the ISO 9001:2015 Quality Management System across the CAPS organization.
ISO 9001 is the international standard that specifies requirements for a quality management system (QMS). Organizations use the standard to demonstrate their ability to consistently provide products and services that meet customer and regulatory requirements. CAPS is well on its way to a successful implementation with the completion of a painstaking review of the entire 9001:2015 standard by a core group of CAPS employees. This first stage of implementation was capped off by an internal auditor training class that provided CAPS auditors the techniques and tools, along with the knowledge of the standard that is necessary to support a robust and effective internal auditing program.
"Here at CAPS we are very excited about 2017 and our move into the next phase of ISO implementation," explained CEO Taylor Norris. "Our 7 core team members have put in a great deal of time and effort laying the groundwork for what lies ahead. The auditor training session introduced another 10 employees to the implementation process and was really the first step in beginning the roll-out of the initiative to the rest of the company. We have a lot of work ahead of us, no doubt, but we seem to have just the right mix of people in place with the knowledge, skills, expertise, and dedication to take the project through to completion."
CAPS' expectation is to achieve full implementation, and achieve ISO 9001:2015 certification for the CAPS organization by the end of the year.
About Custom Air Products & Services
Custom Air Products & Services, Inc. is a full-service HVAC company that specializes in the design, construction, installation, modification, and servicing of industrial and commercial air conditioning equipment. CAPS employees are committed to providing exceptional custom design and quality workmanship at competitive prices.
Custom Air Products & Services currently occupies six (6) modern facilities, totaling 250,000 square feet in size. CAPS services are provided to customers throughout the United States and Mexico while their manufactured products have been delivered to sites around the world. Currently CAPS has equipment operating on six (6) continents and in 52 countries.