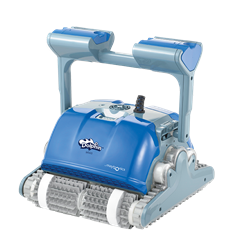 uses as little as 15 cents per cycle
Atlanta, GA (PRWEB) February 07, 2017
Maytronics, the market leader in pool cleaning robots, recently introduced the Dolphin M500, which offers many unique pool cleaning features, including the MyDolphin App to control the robot remotely.
Dolphin pool cleaning robots were first-to-market with the Bluetooth connected MyDolphin App functionality in 2015. The newest robot, the Dolphin M500, a superior cleaner for any residential pool, was showcased at the Retail Summit in Orlando, FL in January 2017 and features Bluetooth and the MyDolphin App. This app allows users to connect to the robot with a smartphone or tablet. This lets them remotely set a weekly cleaning schedule, specify a delayed start, control the cycle time, and even manually control the robot in order to spot-clean areas of a pool.
The Dolphin M500 includes many other features that Maytronics customers have enjoyed for years:
Intelligent navigation - uses advanced scanning and navigation software to ensure that the pool floors and walls are fully covered.
Ultra-fine filtration - includes multi-level, ultra-fine filter walls to remove fine and coarse debris from pools. They are also easy to remove and easy to clean.
Dual-scrubbing brushes - allow the active scrubbing brushes to spin 2x the speed of the robot for more effective cleaning.
Energy efficiency - the power supply is energy efficient and uses as little as 15 cents per cycle.
Modular design - Dolphin robots have a unique modular design that makes maintenance and repairs quick and easy.
According to Rebecca Keith, Marketing Director for Maytronics, "Dolphin customers value their time, and cleaning a pool can be costly and time consuming. Using a Dolphin robot is a major time saver. The Dolphin M500 is so easy to use: just plug in, press the power button, and place in the pool. Additionally, customers are now able to use the MyDolphin App with the Dolphin M500, allowing them to set a cleaning schedule and let the robot do the rest. Once the pool is clean, just remove from the pool, pull out the filter plates, and spray-wash clean for reuse."
Visit http://www.maytronicsus.com to learn more about Dolphin products.
About Maytronics
Founded in 1983, Maytronics has a rich history of innovation. It pioneered the field of automatic pool cleaning with its development of the world-renowned Dolphin robotic pool cleaners. Dolphin is the #1 selling pool cleaning robot, known for innovation and the highest level of quality in design. Maytronics US Headquarters is located in the Atlanta, GA market.