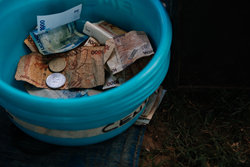 Fundamental financial tools make a significant difference in fragile environments.
WASHINGTON, D.C. (PRWEB) February 13, 2017
Despite seemingly intractable problems including extreme poverty and one of the world's highest populations of refugees, sub-Saharan Africa can potentially increase economic equity through investments in the financial sector. That's according to a new report from the global organization Mercy Corps and Financial Sector Deepening Africa, supported by the UK Department for International Development.
In the report, Financing the Frontier: Inclusive Financial Sector Development in Fragility-Affected States in Africa, researchers examine the impact of financial sector development on poverty and stability. The findings show that making financial services available to disadvantaged parts of the population may be one of the most effective strategies for cultivating stability in areas with high populations of refugees and internally displaced people.
"Fundamental financial tools such as personal-identification-inclusive regulations and digital-payments infrastructure make a significant difference in fragile environments," says Thea Anderson, Director of Financial Inclusion at Mercy Corps. "A strong, transparent financial sector can drive overall stability, address income equality and encourage the development of entrepreneurship."
Researchers note that despite this strong evidence of efficacy, institutional donors have been sluggish in prioritizing these kinds of market-focused responses in fragile and conflict-affected environments. As a group, so called "fragile-affected" countries lagged behind in reaching critical development benchmarks, including Millennium Development Goals. Today, the 50 countries and economies on the Organisation for the Economic Co-operation and Development 2015 fragile states list – of which 30 are African – are home to 43 percent of the global population who live on less than US$1.25 per day. By 2030, this figure could reach 62 percent.
"This report has implications not just in sub-Saharan Africa, but in places all over the world that are facing similar challenges," says Anderson. "These places should not be overlooked as candidates for successful investments in long-term financial sector infrastructure."
Read or download the full report, and join us and support Mercy Corps' work around the world.