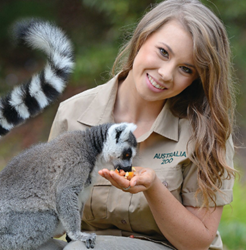 New York, New York (PRWEB) February 07, 2017
Wildlife Warrior Bindi Irwin will be stopping by New York Toy Fair 2017 where she will be signing autographs and taking photos with fans. Irwin is the voice of Educational Insights® new GeoSafari® Jr. Talking Microscope™, which will hit stores in June 2017.
The recent Dancing with the Stars winner will be greeting fans inside Educational Insights' booth, #425, from 2-4 pm on Sunday, February 19, 2017. The toy manufacturer, which encourages children to learn through play, will also have a larger-than-life replica of the Talking Microscope to which Irwin lends her voice inside their Toy Fair booth.
The Australian teen is following in her late father's footsteps, continuing his conservation efforts worldwide, teaching children about nature and wildlife. Irwin's own love of nature and wildlife education is what spurred her to collaborate with Educational Insights, a company known for its innovative, award-winning educational toys. The GeoSafari® Jr. line, which is designed for children 2-6 years old, is a playful introduction to science discovery and encourages little ones to get outside and explore.
Come meet Bindi and learn what Educational Insights has to offer at NYC Toy Fair 2017!
About Educational Insights:
Educational Insights is a leading creator of best-selling toys and games focused on kid-powered, unplugged play. With smart toys rooted in STEM based learning and fun games that promote skill-building and development, Educational Insights was nominated for Toy of the Year in 2016. Their award-winning products are sold in countries worldwide and all major retailers across the USA. Founded in 1962, the Educational Insights is a subsidiary of Learning Resources. For more information, visit EI's web site at http://www.educationalinsights.com