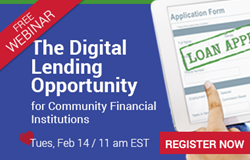 Community institutions could earn more than $30 billion by 2025 using digital lending technology.
LOUISVILLE, KY (PRWEB) February 07, 2017
BSG Financial Group, a provider of revenue-enhancing programs and compliance solutions for financial institutions nationwide, announced today it will host a webinar for financial institutions entitled, "The Digital Lending Opportunity for Community Financial Institutions." The free webinar—which is part of an ongoing educational series that the company provides for its clients and potential customers—will present the financial and customer service benefits of providing online lending to small businesses and consumers. It will also share case study examples of how to adopt a digital lending technology platform and adapt it to the institution's risk, compliance and underwriting procedures. The webinar will be held on Tuesday, February 14 at 11 am EST.
BSG Financial Group is hosting this webinar to educate community institutions about the rapidly growing digital lending market and its tremendous earnings potential, which is estimated to be more than $30 billion by 2025. While community banks successfully hold 58% of the total volume of small business loans from $100K to $1MM, they hold only 14% of their checking customers' small business loans under $100,000. The webinar addresses this area of underperformance and offers solutions to expanding loan sales, improving speed of service and efficiency, and enhancing customer satisfaction with digital lending technology.
The presenter is lending and technology expert Robert C. Giltner, Chairman of R.C. Giltner Services, Inc., a provider of digital lending solutions for community institutions.
In the 60-minute webinar, attendees will learn about the greatest areas of opportunity in online lending, especially small business loans under $100,000 and consumer loans under $50,000, as well as how to:

Adopt a technology platform and customize it with your branding and underwriting
More efficiently serve your current small business and consumer customers
Deliver loans end-to-end while keeping customer data safe
Satisfy current underwriting procedures and risk appetite
Ensure the same full compliance as your paper loans
Promote and track the service
Who: BSG Financial Group in conjunction with R.C. Giltner Services, Inc.
Presenter: Robert C. Giltner
When: Tuesday, February 14 at 11 am EST
Registration: http://www.bsgfinancial.com/OnlineLendingWebinar
Who Should Attend: Chief Executive Officers; Chief Information Officers; Chief Credit Officers; Chief Retail Officers; Chief Marketing Officers; Electronic Banking & Digital Banking Officers and Senior Lenders
 
About BSG Financial Group
Louisville, Ky.-based BSG Financial Group is a group of independently organized companies that provides revenue-enhancement and compliance solutions for financial institutions nationwide. BSG Financial Group has been a provider of innovative overdraft programs since 1999, including the industry's first cloud-based overdraft management solution, Courtesy Connect(R)/Courtesy Limit™.
 
The company's additional revenue-enhancing solutions include: Demand Deposit Account Management; Fee-Based Packaged Checking Accounts; Expense Management & Vendor Negotiation; Vendor Management; Social Media Management; and Appraisal Management Services.
 
BSG Financial Group includes the following companies: CourtesyCloud Management Solutions, LLC; BSG Financial, LLC; and IQ Development, LLC. For more information about the company, visit http://www.BSGfinancial.com.
 
About R.C. Giltner Services, Inc.
R.C. Giltner provides digital lending technology to financial institutions and is headquartered in Louisville, KY. For more information, please visit http://www.rcgiltner.com or contact Robert C. Giltner at bgiltner(at)rcgiltner(dot)com.